Enjoy Today – Word Art Quilt
Hey quilty friends, I want to introduce you to my Enjoy Today quilt! Julie Cefalu over at The Crafty Quilter has been doing a Disappearing 9-Patch Quilt Along the past month or so, and I've been having some major quilt envy, loving all the pictures on her blog and in her Instagram feed.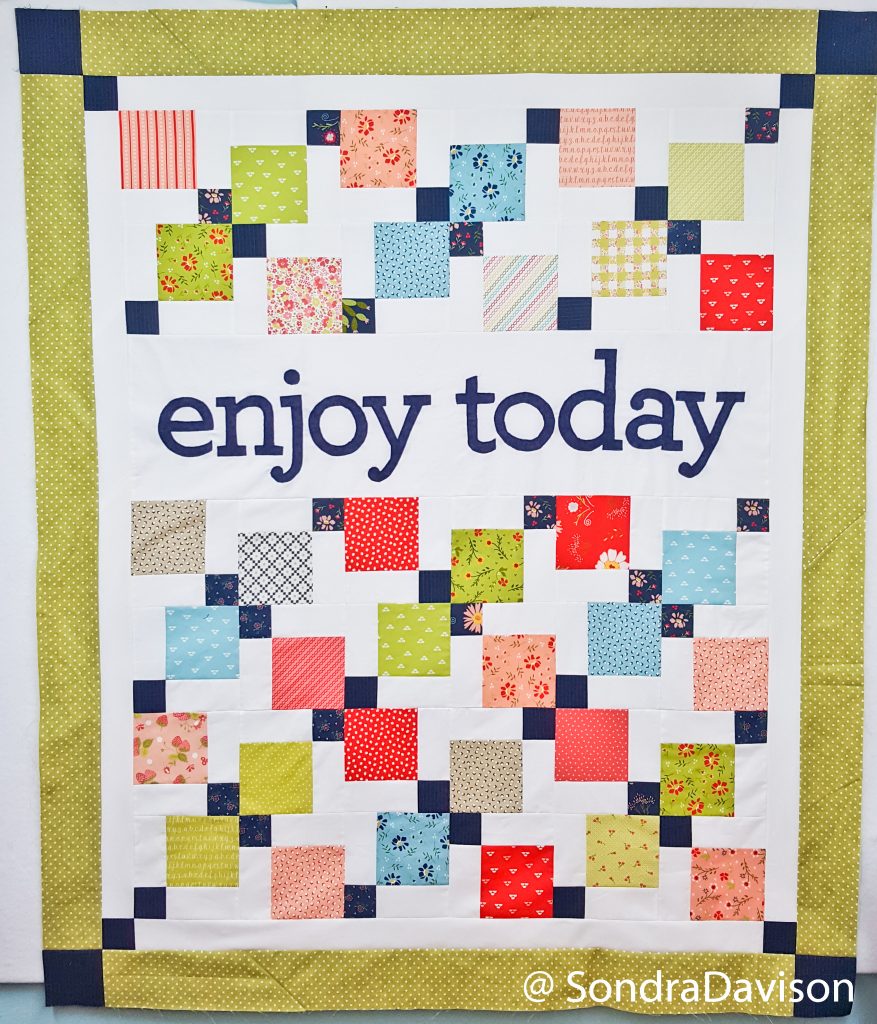 It's not quilted yet and the poor thing looks extremely wrinkled in this picture, but I love it! It went together so quickly, and Julie gave great instructions, which I merely changed a bit to add my applique strip and lengthen it. I've decided to join her link party, so if you want to see several other quilts, head over there and check them out!
Several things happened that led to me to creating this quilt. First, about the time the quilt along was starting, I got my Fat Quarter Shop Sew Sampler Box for June. I was over the moon about everything in it, but I'll write more about that in another post. The important thing to know for this story is that the Enjoy Today quilt is made with five-inch squares. Do you see those two gorgeous charm packs that came in June's box? How awesome is that???!!!!
I could hardly wait to tear into those packs. I primarily used the Walkabout charm pack by Sherri and Chelsi for Moda, but ended up adding a few pieces from the Strawberry and Jam charm pack by Corey Yoder for Moda. I cut some additional navy print squares from fabrics in my stash and used Moda Bella Solid 9900-97 yardage to cut 5″ white background squares. Having the precuts really moved things along!
Organizing fabric into blocks
My first step was to arrange all my squares into 9-patch blocks, then stack them into one giant pile for chain piecing.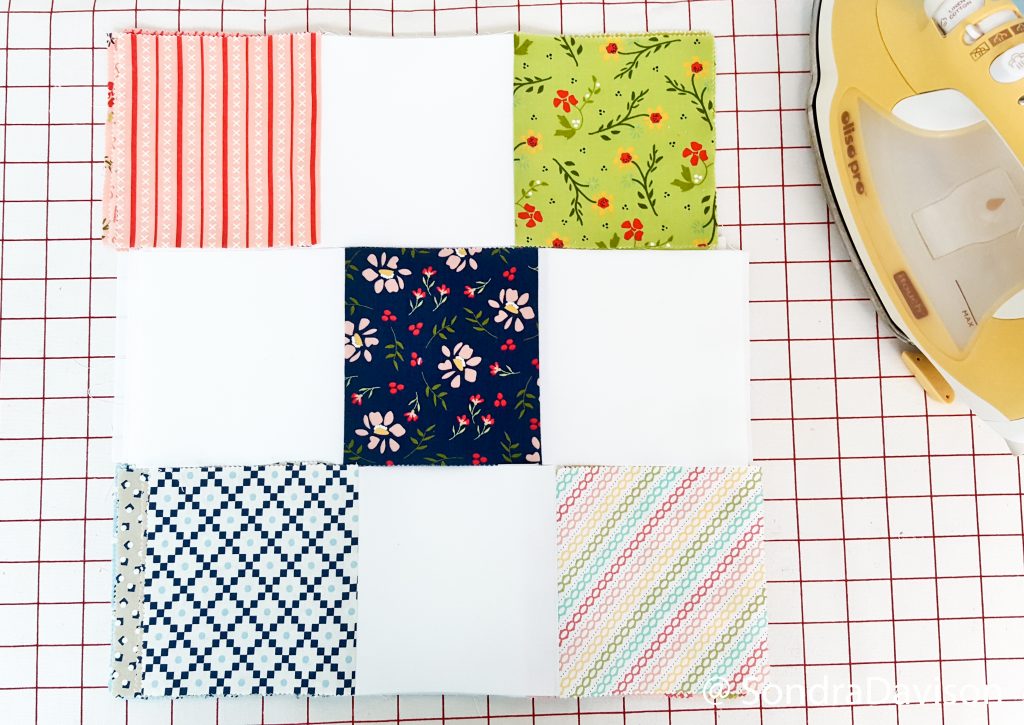 Quickly, rows were sewn together, pressed and became blocks. That's when the magic happened.
Each block was cut in half twice, making the original nine-patch dissapear!
All the newly formed blocks were reassembled into a quilt formation (umpteen times, I might add, as I couldn't make up my mind). It was at this point I did have to make one important decision. Length. I had chosen to make the smallest quilt Julie showed on her web site, but I really wanted a rectanglular rather than a square quilt. I had used up all the charm squares that coordinated from the original two charm packs.
Making the quilt longer
I like word art. I don't really want it in frames, hanging on the walls, not easily (or cheaply) replaced as often as I choose, so I like to make it in fabric. That seemed the perfect thing to do for this quilt.
I chose my words "Enjoy Today" created them on the computer, and then using fusible applique made an extra "row" for my quilt. It really makes me happy just looking at it. I'm thinking I'll use this saying on more quilts in the future for charity quilt donations.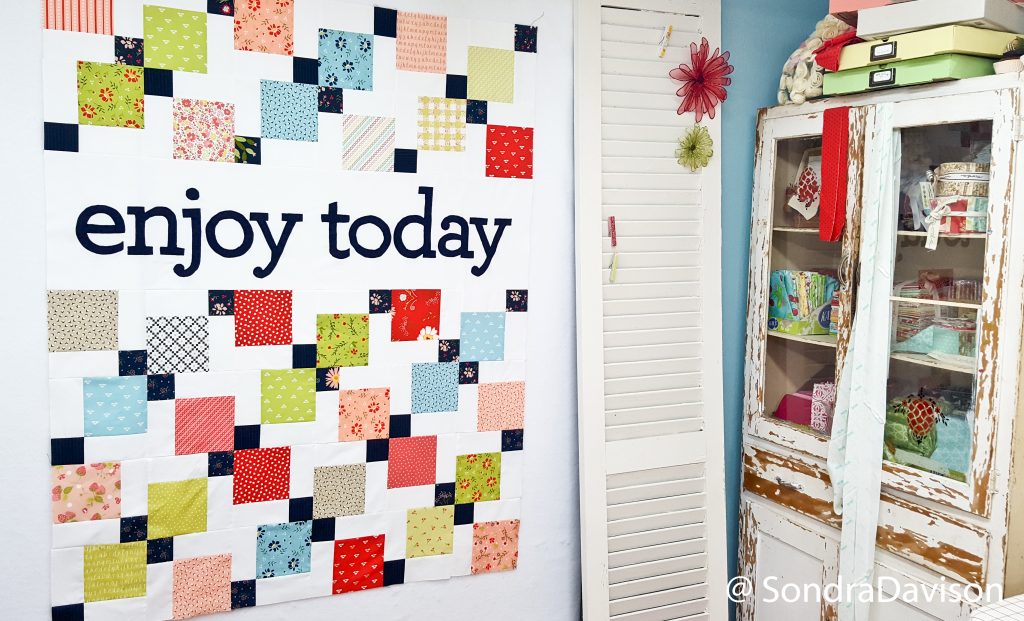 Next, there was more digging through my fabric closet spare bedroom, to find border fabric, and I chose Dots from Fig Tree Quilts for Moda (I have a lot of Moda….). To be honest, I really, really like it without the borders. I may try the next one with background fabric continuing into the borders rather than a printed fabric.
More stash fabric was auditioned for binding.
Final binding selection I think is a really vintage piece, lol! I don't remember this line, but I've always loved Blackbird Designs, so Rhubarb & Ginger it is – once quilted I think this will frame everything nicely.
I totally forgot to take a picture of my backing, but I'll show it when I'm done with the quilting. At the moment, my pineapple quilt is completely assembled and on the longarm. Then I stopped. Terrified. It's gorgeous, folks, but I have no idea what to quilt on it. I'm such a novice longarm quilter and completely froze, not wanting to mess it up! That's why this lovely disappearing nine-patch was a welcome distraction.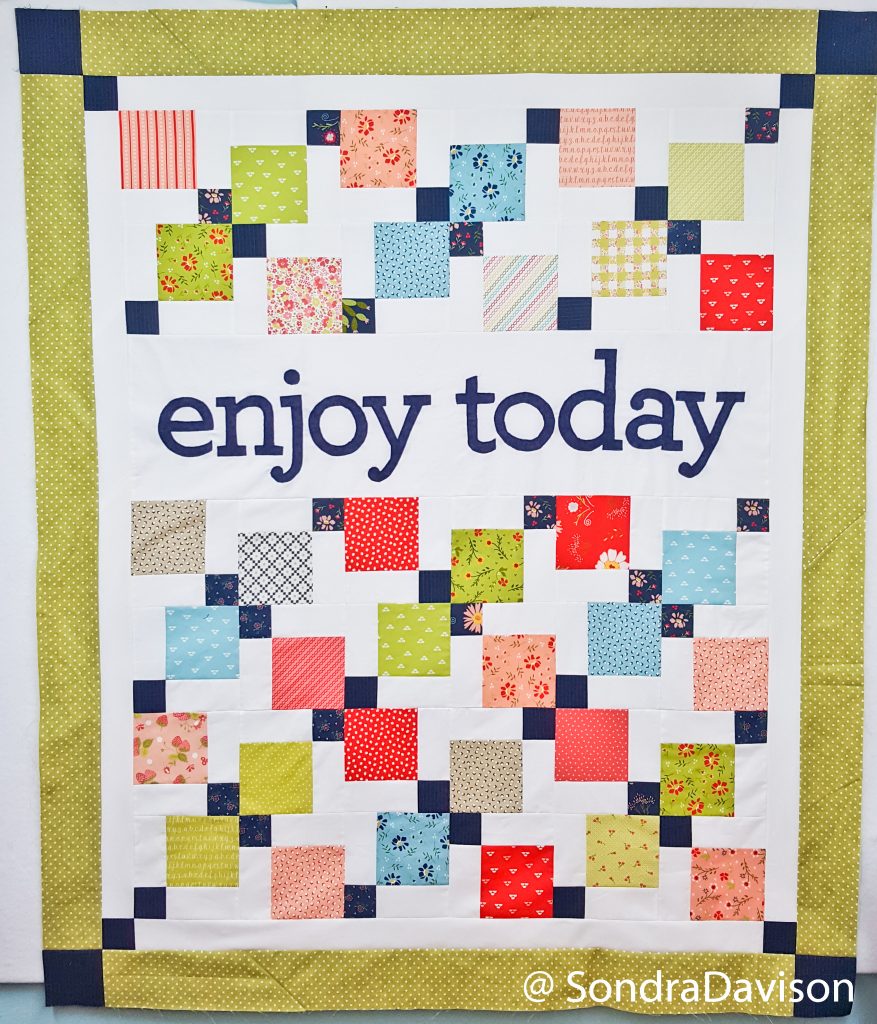 Next week I'll share my finished quilt and, for anyone interested, I'll be writing a detailed post about how I made the Enjoy Today applique piece and changes to the quilt, as well as a downloadable PDF available of the lettering.