Beginner Charm Pack Placemats
Hello, everyone!  Welcome to my stop on the Fat Quarter Shop's BLOG Remix! If you're looking for a quick project to beat the heat (we're talking 100+ degrees at my house today) this Beginner Charm Pack Placemat tutorial from the Fat Quarter Shop is perfect. I made a pair of these from start to finish in a single afternoon. A huge thank you to designer Sherri McConnell and FQS for this free idea!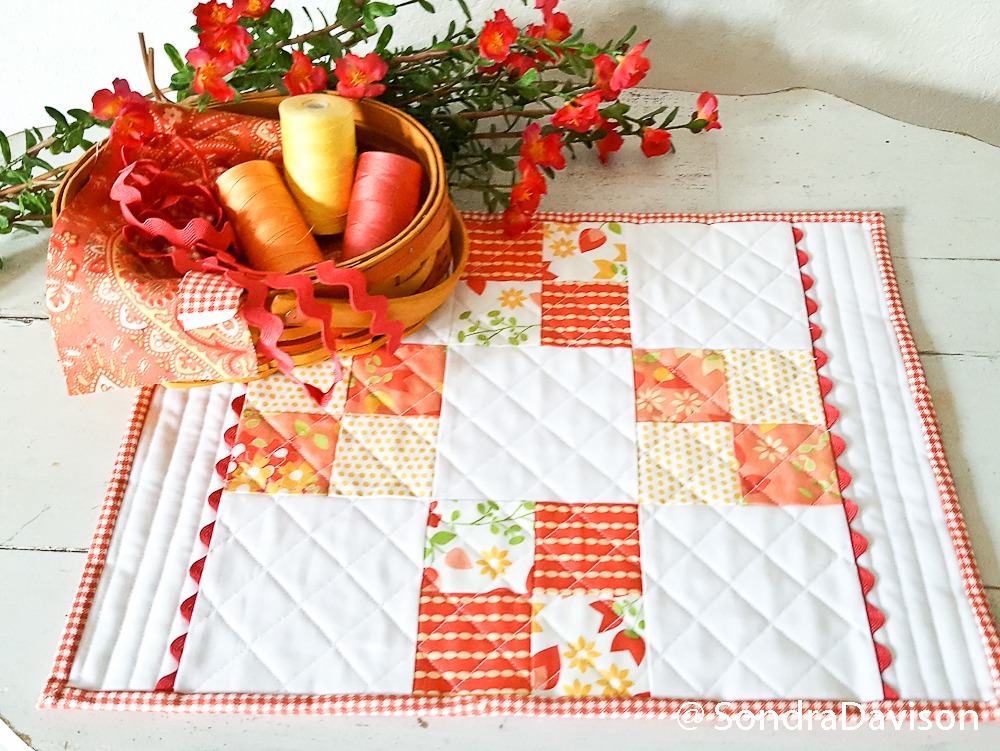 As always, the longest part of a sewing project for me is picking out the fabric. So many choices. Never enough time!
And this is where I deviated a bit from the instructions. Instead of a charm pack I used a jolly bar!
I already had Corey Yoder's Sundrops jolly bar on my cutting table, planning to use some of it to finish a recently completed cross stitch. It dawned on my that a jolly bar cut in half was a 5″ square, same as a charm pack, so why not?
Next thing you know, I'm laying out all these lovely pieces. And they looked so good, I found I couldn't use them up in placemats. At least not a lot of them. I really want a quilt from all this loveliness, lol! Who knows, I might have to buy another one, especially since it's on sale right now.
So the idea to use some Moda 9900-98 white along with some ric rac embellishment was born. I also used some very, very vintage Moda fabrics (at least ten years old) for my backing and binding.  You build a stash long enough, it's fun to see what will blend together between the old and the new.
For my blocks,  basically followed the same instructions from FQS' video, but rather than cut everything in half to begin with, I chose two jolly bar pieces and paired them with two 5″ x 10″ white rectangles, then sewed a lengthwise seam on top and bottom of each.
Next, I drew three lines across the width, at the 2½", 5″, and 7½" marks. I sewed a quarter inch away on either side of the first and third marks only, then  cut on each line, following the rest of the tutorial instructions from that point forward, but substituting white 5″ squares for the printed squares shown in the tutorial.
I also used the white for my borders, sandwiching a piece of ric rac in between before sewing them on. I love how simple these were and really not much fabric needed for a fresh new summer look on my table!