Perfect 10 Sampler Quilt Along – Week 1
Welcome to my stop on the Fat Quarter Shop Perfect 10 Sampler Quilt Along!!
Today I'm sharing my first two blocks, the Banana block and the Birthday Cake block.  If this is the first you're hearing  about this quilt along, go check it out. These blocks go together so quickly, you'll be busting out quilts in plenty of time for Christmas gifts if you haven't started on them yet (saaaaay whaaaat???)!
#quiltprocastination #buildingmyufostash
The Perfect 10 Book by It's Sew Emma has 16 quilts featuring the new Perfect 10 Ruler from Creative Grids and 10" square Layer Cake precuts. As with all the It's Sew Emma publications, it's packed with full color diagrams and clear instructions, You can purchase the book and ruler separately or better yet, choose the Perfect 10 Combo Pack to get both!
For my blocks, I chose the new Smitten layer cake by Bonnie & Camille for Moda fabrics. By now, I think it's pretty obvious I'm an avid B&C fan. I always say, getting a package from the Fat Quarter Shop is kind of like Christmas. Everything is always wrapped so pretty, with adorable stickers to boot. In addition to my layer cake, I chose a navy floral lawn fabric for the backing. This type of fabric is new to me, so I can't wait to see how the quilt ends up once it's finished. For my binding I'm using a Smitten navy dot fabric.
To be honest, I'm a total gadget girl and have to fight the urge to buy every ruler, pen, thread, book and tool out there. I have so many, and I really didn't think I needed a 10″ square ruler, but I'm glad I changed my mind on the Perfect 10 ruler – it's just simple. Clean. Very easy to use.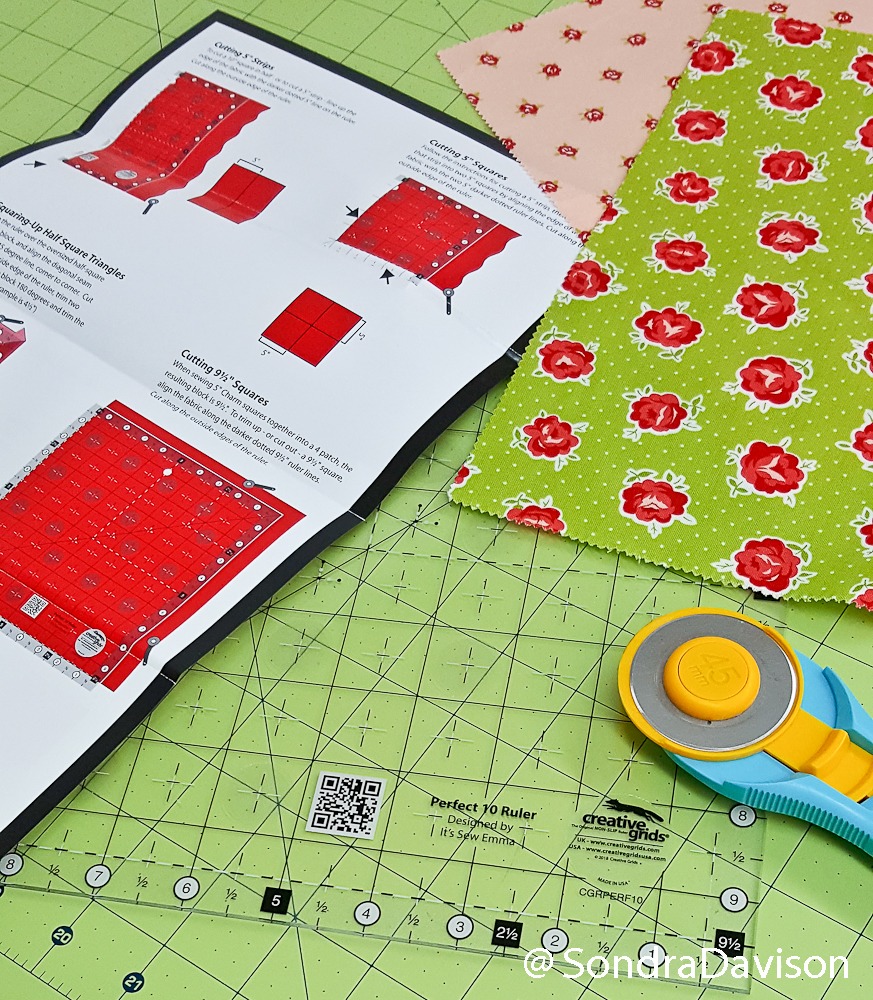 Sometimes we don't need all the extra lines for every 1/8″ increment, or all the angled lines and the other many distractions. Don't get me wrong. When I need them, I want them. But for basic straight cuts, this ruler is awesome.  I can't tell you the number of times I made a cut and realized afterwards I was on the 1/4″ mark rather than the 1/2″ mark and had to cut again – grrrr! Not one wrong cut with this ruler!
What Other Tools Did I Use?
I had fun pulling out all my Fat Quarter Shop supplies. I hang all my quilt rulers in my studio, pulling out just what I need for a project and then losing them in a pile of fabric. I've had this Pleasant Homes Ruler Pal for ages, stashed away in a drawer. I have no idea why I haven't used this sooner! It was the perfect size to hold my rulers for a project. I love my Creative Grids 2½" x 6½" ruler. I use it for drawing diagonal lines, quick trimming and love the way it fits in my hand.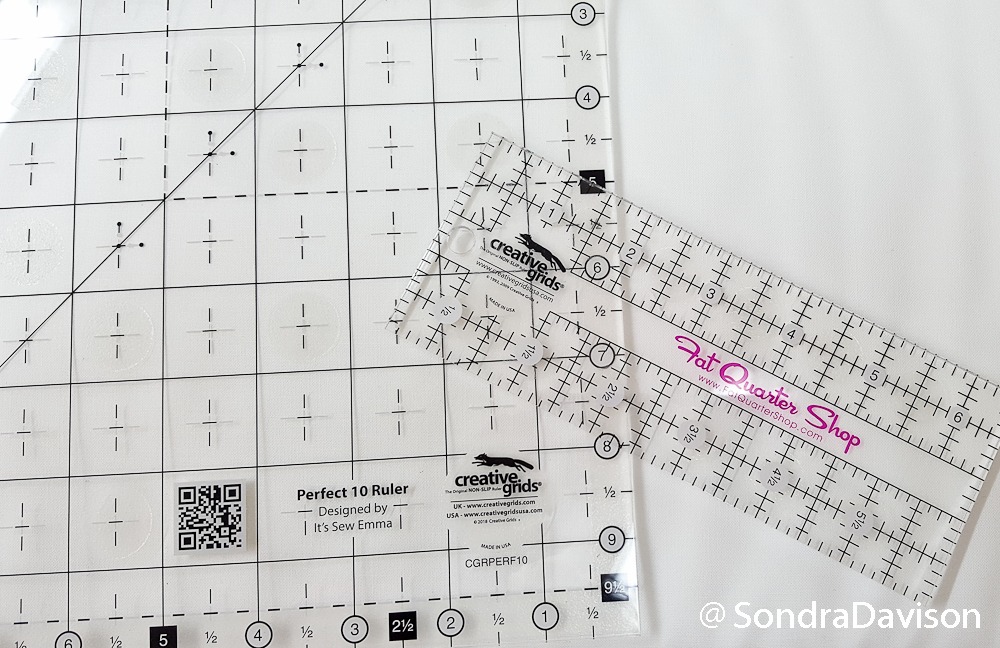 For squaring blocks I love my Bloc_Loc HST rulers, using my 6½" size most often, but since I'm always making "bonus blocks" from the trimmed off corners of blocks, the smaller 2½" size comes in very handy.
And I can't live without my Alphabitties. Honestly, I tried printing my own homemade version on cardstock and using them when Fat Quarter Shop introduced this product several years ago. These are handier, more durable and just plain cuter. I think I now have four sets!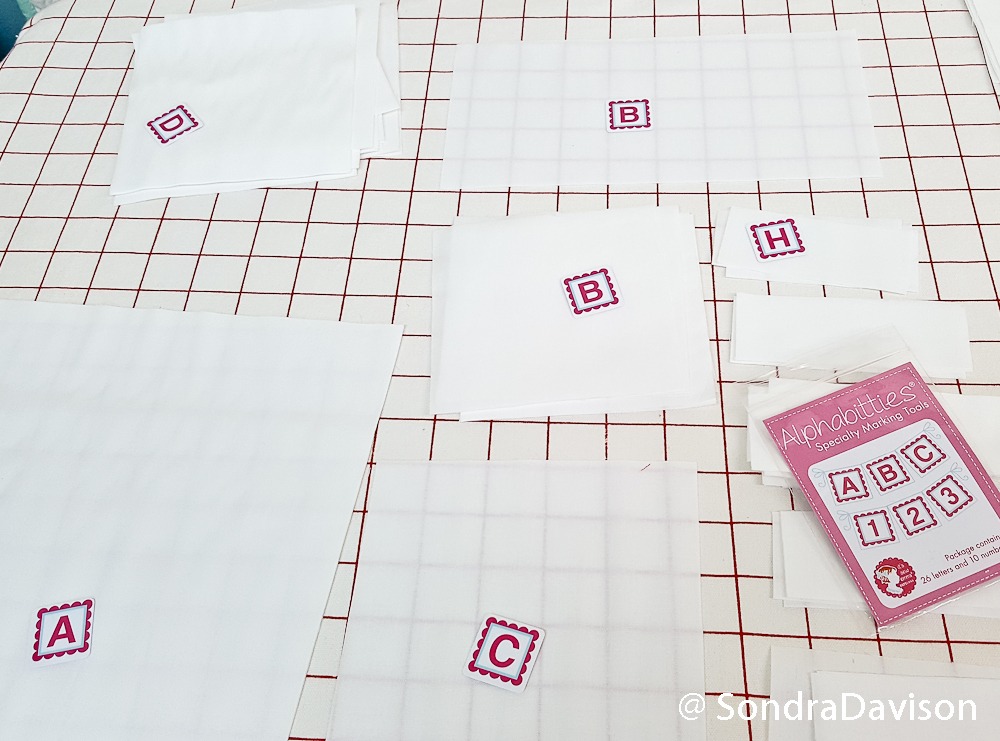 Who's Quilting Along: Perfect 10 Sampler Quilt Along
Now it's time to see what my quilty friends who are quilting along have made!
Let us see your Perfect 10 Sampler blocks  on Instagram or Facebook using #FQSPerfect10 ! Here's our schedule for the next several weeks. I hope you'll join us!
October 9, 2018 – Banana Block and Birthday Cake Block
​October 16, 2018 – Buttered Pecan Block and Coconut Block
​October 23 – Coffee Block and Cookie Dough Block
​October 30 – Cookies 'n Cream Bock and Cotton Candy Block
November 6 – Dutch Chocolate Block and French Vanilla Block
November 13 – Lemon Sorbet Block and Mint Chocolate Chip Block
November 27 – Neapolitan Block and Peaches 'n Cream Block
December 4 – Rainbow Sherbet Block and Rocky Road Block