Patchwork Quilt Along Big Block 11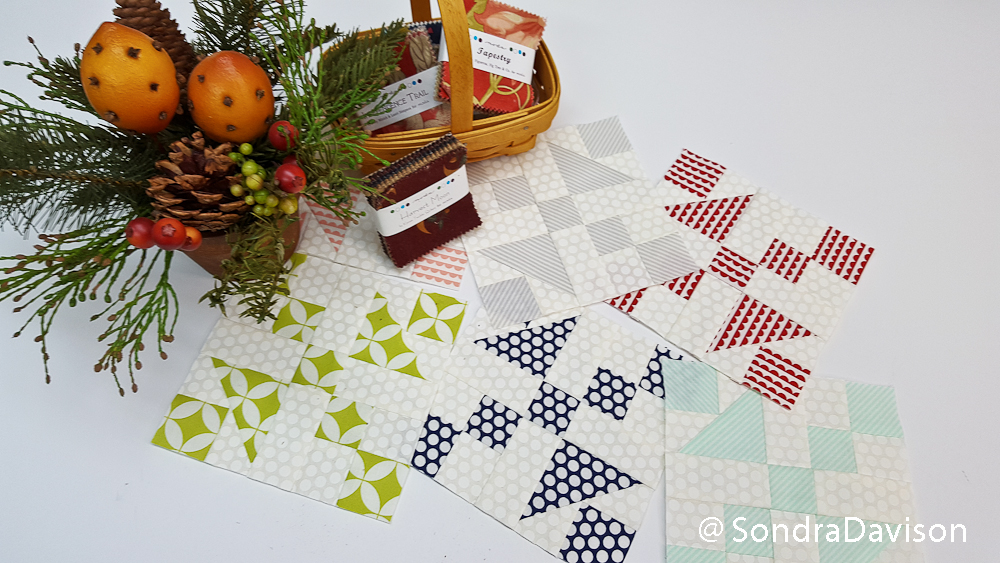 Happy November and welcome to Big Block 11 of the FQS Patchwork Quilt Along! I'm looking at the calendar and trying hard to ignore the flutter of panic I get at this time of year. I think about how much I want to get done between now and Christmas and start to  feel a bit overwhelmed. So many things to do….I did manage to clean off the top of bookcase adjacent my design board this month, and that feels good. Those empty, monthly Sew Sampler boxes from Fat Quarter Shop are pretty handy for organizing a few works in progress.
So back to our Block 11, the Spinning Tops. As always, Fat Quarter Shop wrote exceptional instructions and things went smoothly. Pay attention to placement as you assemble the blocks or you could be pulling out the handy seam ripper. Mine got a lot of work this month, as shown on my Instagram feed of #30DaysSewThankful. Luckily, I had a backup, since this little Bernina ripper is my absolute favorite.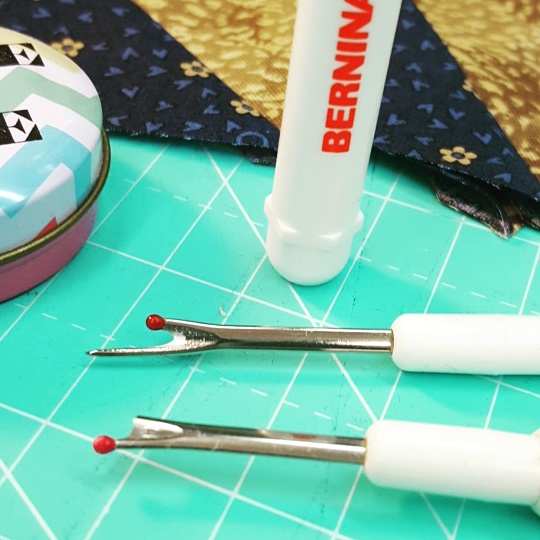 My big block print  fabric this month is Bliss by Bonnie & Camille for Moda Fabrics. I think this is one of my favorite lines they designed (I say that each time a new one comes out, though). They have so many new products right now, after market, so be sure to check them out.
Just one more month to go and then time to put all our blocks together! Are you keeping up??? You might start thinking about backings for your quilts. I was looking at some great possibilities last night. Fat Quarter Shop is having a pre-holiday clearance sale.
What really caught my eye was the Basic of the Month sale (20% off) is Swiss Dots by Riley Blake. I'm a sucker for dots and these are great for backgrounds or for backings.  I see another online shopping trip in my near future.
Big Block 11
Here are this month's Big Block 11 instructions for Spinning Tops! Click the PDF link underneath the picture to open and download your Big Block file to print.
Each month during 2017, Fat Quarter Shop will post a new free pattern and video tutorial for the Patchwork Quilt and encourage participants to donate to Make-A-Wish Central & South Texas in lieu of payments. Fat Quarter Shop and Moda Fabrics will each match up to $10,000 of the donations raised. (#awesome)  Learn more about it and how you can help here!
Check out the blogs every month of our quilty friends. Watch their process, and see what fun fabric collections they have selected!
*Psst! The designers of the quilt's fabrics – Bonnie & Camille – are sewing along, too! Fun!
Please share your progress and creations along with all of us on our Patchwork Facebook group. Post your blocks using #patchworkquiltalong on Facebook, Twitter, and Instagram.