Fat Quarter Placemat demo for Visit Your Local Quilt Shop Day
Last week zipped right past, between getting the house into tip top shape for a Super Bowl party and lots and lots of packaging and sending out the new Fat Quarter Placemat I patterns. Now, I'm sitting here taking a deep breath, trying to do a mental January in review. One of the highlights was last weekend, visiting Charlotte's Sew Natural in Newton, KS, for "Visit Your Local Quilt Shop Day." I love sharing and teaching new stuff!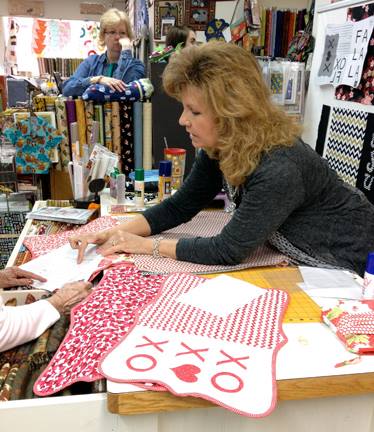 These photos are courtesy of Charlotte and her great team. I was really surprised when I showed up for the demonstration, all my demo pieces in hand and they had already made a placemat the night before and look how cute it is! Our local Wichita Shockers college basketball team has been undefeated for ages. Charlotte put together the cutest fabrics representing those school colors and printed a few letters from the computer and voilá! I love it! Just a note to everyone out there, you can embellish your placemats in the same way (I've got monograms running through my head as I write).