Broken Dishes QAL: Make a Quilt with the Square on Square Ruler
One of my current projects is the Broken Dishes quilt block, part of the Classic & Vintage series provided by the Fat Quarter Shop. Be sure to stop by the FQS Jolly Jabber blog to see the tutorial and video for this block!
I'm using the Riley Blake Blooms & Bobbins fat quarter bundle included in my July Sew Sampler box from the Fat Quarter Shop. These colors look perfect for the two baby quilts I'm making. I also used Moda 9900-97 white Bella solid fabric for the background.
I replaced my rotary blade with a new Olfa Endurance blade that was also included in July's box (and I love it). A new blade always feels good, but this one is still going strong, and I've been cutting a lot.
Cutting and making multiple blocks
In addition to my fabrics, I used 2" Triangles On A Roll and the Creative Grids Square on Square 8" Trim Tool to get started. I've included a complete supply list of what I used for my blocks at end of this post.
I stacked all my printed fat quarters and cut through all the layers at one time – fast work!
I think this 2.5″ x 6.5″ Creative Grids ruler was another Sew Sampler box item from long ago. I love getting those boxes. This is something I probably never would have thought to buy, but I swear I use it on nearly every project. It's a very handy size.
Of course I had to get my Alphabitties out to keep everything organized. I wonder how I ever lived without these?
When it comes to my current project, I'm kind of a neat freak. I like everything laid out where I can see it, sew it, press it, hang it on the design board and love it. What you can't see is that surrounding this nice neat area is a table room that looks like a tornado went through it.
After getting all the fabrics organized, I pinned my triangle papers to the print/background fabrics that were placed right sides together.
Next, I sewed on the dotted lines. And yes, I chain sew these like everything else.
After the sewing is complete, you cut on the designated lines, remove the triangle paper, then start pressing. This wool pressing mat was ANOTHER item that came in our Sew Sampler subscription, also another item I really didn't think I needed but now can't live without. I have every intention of buying the larger version, because I think it would be great being able to press an entire block at one time.
I don't know why or how, but the wool mat makes the blocks really, really flat!
Trying Out the Square on Square Ruler
Playing with the new Square on Square ruler was so much fun! I've always claimed to be a gadget girl, and this particular gadget did not disappoint!
The blocks are made a wee bit oversized (which I personally prefer) and then trimmed with the ruler to the precise size needed.
And here are my blocks. The block has an unfinished size of 12.5 inches.
As usual, Pepper had to test them out (or photo bomb the shot). Never sure what she's thinking, but she does like to be in the middle of everything when I get my camera out.
I only used about half of my fat quarters, and these came out so nice, I plan to make another set as TWO baby quilts are needed in the near future for gifts.
Here is a basic list of what I used for my blocks, as well as products available from the Fat Quarter Shop to make their entire quilt.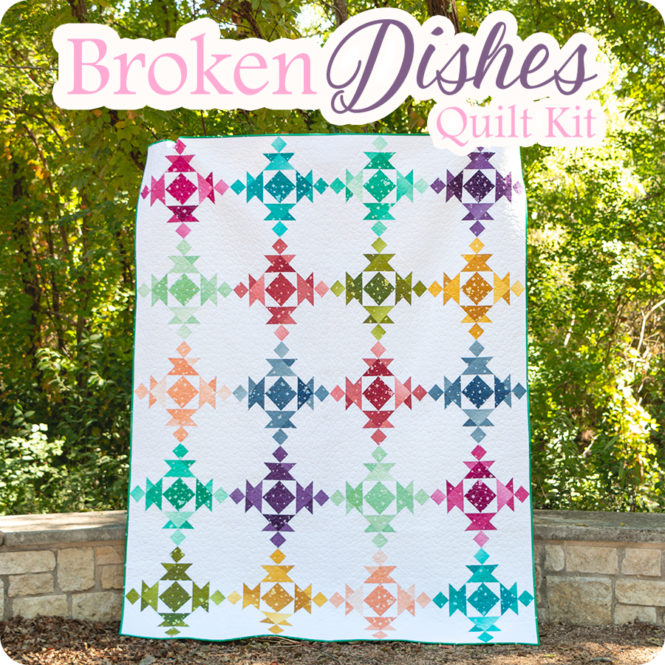 The Fat Quarter Shop has a Broken Dishes Quilt Kit available. The kit comes with the Ombre Bloom by V & Co. for Moda Fabrics and 2" Triangles On A Roll and the Creative Grids Square on Square 8" Trim Tool.
If you're ready to sew along with us, download your FREE Broken Dishes block pattern and watch Kimberly's video tutorial for a step-by-step guide on making your block and using Triangles On A Roll paper.
There are several bloggers quilting along and sharing their blocks. I'd love to see your version of the Broken Dishes block or quilt using #BrokenDishesQuilt and tag us (@fatquartershop and @sondradavison) so we can see and share your work!
One day, I need to sit down and count how many of the Vintage Series blocks I've made. Quite a few! How about you? Did you make the FQS quilt pattern or use them for something else?