2020 Bloom-Topia Quilt Along – Release 1
Welcome to my little part of Fat Quarter Shop's 2020 Bloom-Topia Quilt Along! I'm not sure how many quilt alongs I've done with Fat Quarter Shop, but I'll always remember my first one was the Snapshots Quilt Along, and I've been hooked ever since.
For those of you new to FQS's charity quilt series, the Fat Quarter Shop and Moda Fabrics partner together to support (this year) Make-a-Wish by matching up to $10,000 each in donations for this worthy cause. To learn more about the quilt along, visit Fat Quarter Shop's blog post or the Make-A-Wish fundraising page to learn more.
Today, I primarily want to share with you what Bloom-Topia is all about and how you can be a part of it, as well as the supplies needed if you haven't started, yet. Next week, I'll go into more detail about making Blocks 1 and 2, shown above.
What's in the Bloom-Topia kit?
Folks, I'll be honest…I'd buy the kit for the box alone. The fanciest boutiques in the world don't compare with FQS when it comes to delivering the goods.
The magnetic closure opens the lid up to this beautiful saying:
I hope we more than double the donations goal for this quilt along, I also have more school fundraising ideas coming! Right now, before the first block has even been released, we're already at 65%, so I know we can do this!
I'm not really sure how I didn't get a picture of all the contents in the kit. I guess I was too eager to start cutting fabric rather than take pics. I'll list items at the end of this post, in case you didn't get the kit but are interested in purchasing the contents.

Starting February 1, 2020, Fat Quarter Shop releases two patterns each month for six months on their blog. Simply follow along to know when the patterns are posted! FQS will also be filming free complementary videos for each pattern.
With all our help, we can reach the goal of $30,000 in donations towards Make-A-Wish Central & South Texas! With each donation, we're getting closer to the goal of granting FIVE wishes, and closer to releasing a new finishing pattern.
Just a reminder that this year's QAL benefits Make-A-Wish Central & South Texas. Fat Quarter Shop offers all of the patterns for free, but offers the opportunity to make a $5 donation per pattern download to support Make-A-Wish. All proceeds from the pattern downloads will be donated to Make-A-Wish Central & South Texas, with Moda Fabrics partnering along. To learn more about the cause you can view this Make-A-Wish video.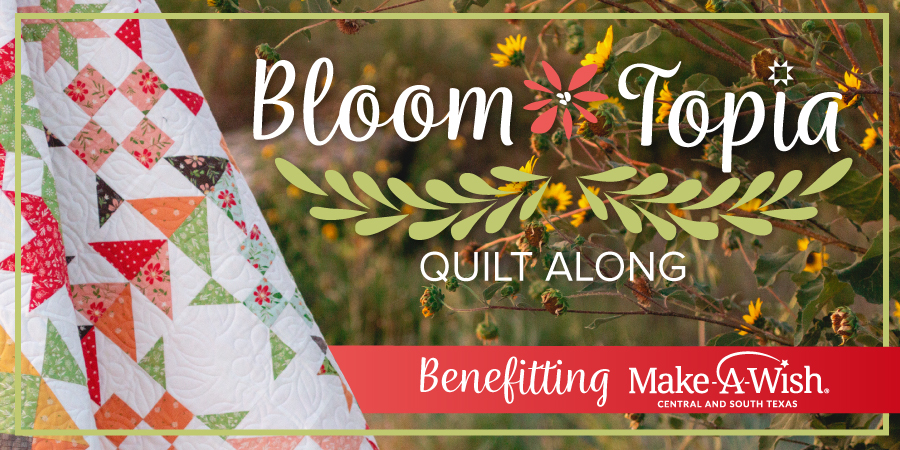 Be sure to follow the Bloom-Topia's Quilt Along's web page which includes all patterns and video tutorials, Facebook, and Instagram! Join the Kimberly Stitch Squad Facebook Group to join the group of quilters who are also quilting along. And be sure to hashtag your Bloom-Topia Quilt progress with #makeawish and #bloomtopia on Instagram so we can see and share your work!
BLOOM-TOPIA SUPPLIES
Affiliate links are used in this post and below at no additional cost to you. I receive a small percent of compensation when you click through and shop using the provided links. This helps me to continue building my blog and my small business. Thank you!