2020 Bloom-Topia Quilt Along – Release 2
I'm back again this week with the second release of Fat Quarter Shop's 2020 Bloom-Topia Quilt Along, the Carolina Lily block. It's a beauty….and huge!
I loved making this block. As usual, I like to cut everything ahead of time and use my alphabitties to label my pieces. I've included links to the products I use further along in this post.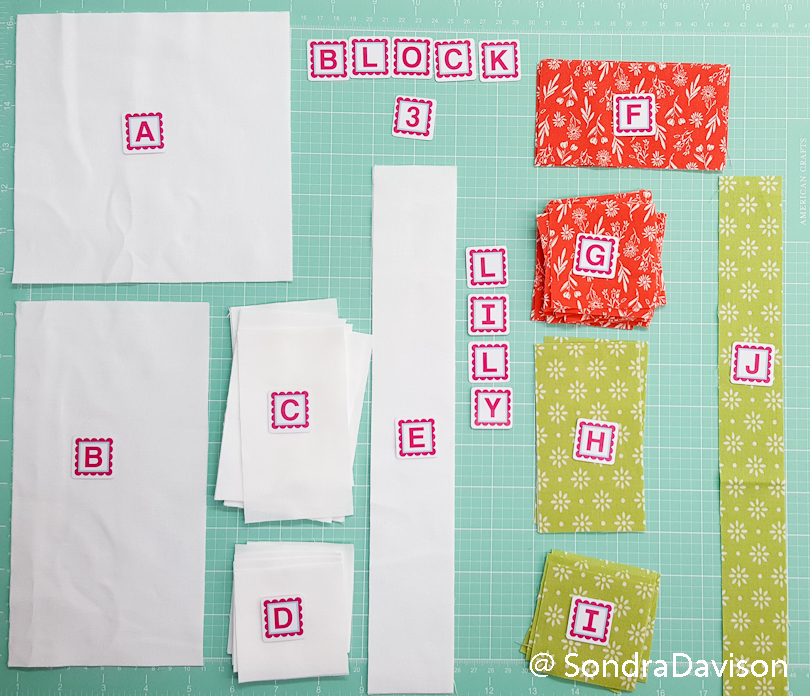 Making Bonus Blocks
The Carolina Lily consists of a lot of flying geese blocks and that means "bonus blocks!" If you've followed me for very long, you know I love me some bonus blocks. Here are just a few of the posts where I've written about making and using bonus blocks.
Bonus blocks are created when a pattern says to draw a diagonal line, stitch on it, trim a quarter inch from the seam and toss the excess. WAIT! I never stop at that one seam, and I definitely don't toss any excess. I stitch a second seam another half or quarter inch from the first and trim in between the two seams. Ta-da! I now have a bonus half square triangle block.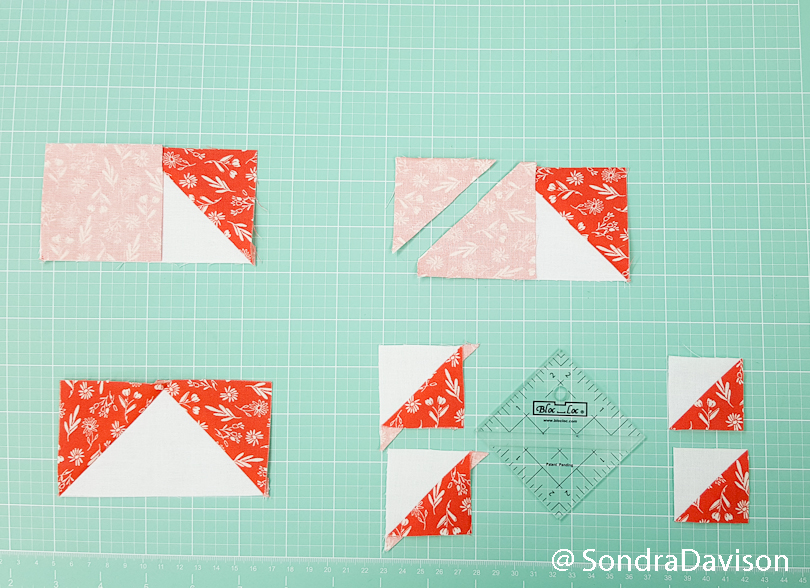 I square up all those bonus blocks with my Bloc_Loc ruler to the nearest ¼-inch measurement and store them for future projects.
The Lily block is 18½' x 20½" when complete, and I used my Creative Grids 20½" square ruler for squaring this up.
Time to start your block! Be sure to follow the Bloom-Topia's Quilt Along's web page which includes this and all the patterns, as well as video tutorials.
All About the Bloom-Topia Quilt Along

Starting February 1, 2020, Fat Quarter Shop releases two patterns each month for six months on their blog. Simply follow along to know when the patterns are posted! FQS will also be filming free complementary videos for each pattern.
With all our help, we can reach the goal of $30,000 in donations towards Make-A-Wish Central & South Texas! With each donation, we're getting closer to the goal of granting FIVE wishes, and closer to releasing a new finishing pattern.
Just a reminder that this year's QAL benefits Make-A-Wish Central & South Texas. Fat Quarter Shop offers all of the patterns for free, but offers the opportunity to make a $5 donation per pattern download to support Make-A-Wish. All proceeds from the pattern downloads will be donated to Make-A-Wish Central & South Texas, with Moda Fabrics partnering along. To learn more about the cause you can view this Make-A-Wish video.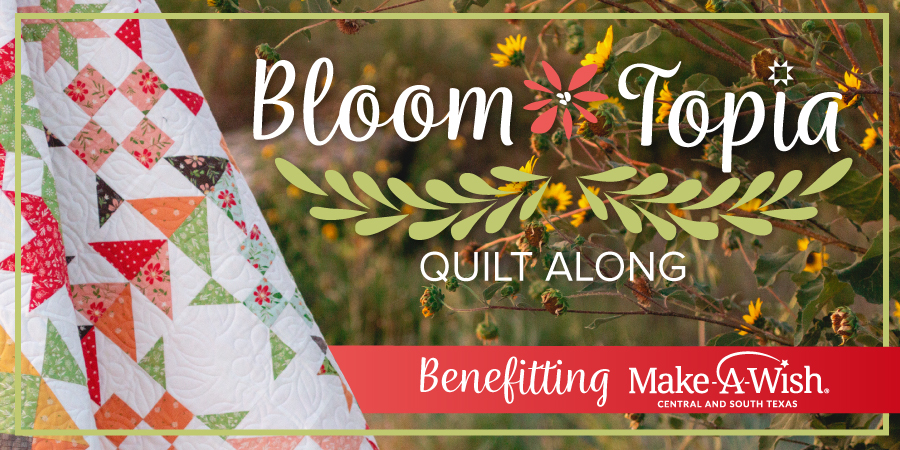 Be sure to follow the Bloom-Topia's Quilt Along's web page which includes all patterns and video tutorials, Facebook, and Instagram! Join the Kimberly Stitch Squad Facebook Group to join the group of quilters who are also quilting along. And be sure to hashtag your Bloom-Topia Quilt progress with #makeawish and #bloomtopia on Instagram so we can see and share your work!