What are your favorite Quilt Education web sites?
During my interview this afternoon with Pat Sloan on American Patchwork and Quilting Radio, one of the things we discussed was online learning. If you didn't get a chance to hear the live episode you can hear the taped version here.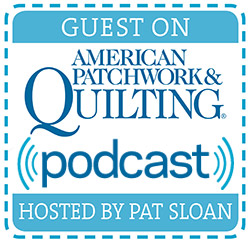 Learning/Education is something I'm passionate about, especially in the categories of quilting (of course), and business, which for me includes entrepreneurship, computer skills and blogging for small business, and scrapbooking sites because I use Adobe Creative Suite for pattern and web design, and they offer a lot of hands on training. Sometimes I assume, because I'm familiar with these sites, everyone else must be, too, but often they're not. I decided I would start sharing some of my favorite sites and will include a link in my sidebar for easy reference. I plan to add to this regularly, and if you have some sites to add to it, please leave me a comment so we can check it out!
Because I quilt, I'll start with that list first!
Quilting Web Sites
Craftsy: If you haven't taken a class here, do. I checked my library and I've actually enrolled in 22 classes! Craftsy offers hundreds of classes in quilting, sewing, knitting, cake decorating, art, photography, cooking and many more categories. You can learn at your own pace from video and downloadable PDF lessons you can access on your computer and mobile device anytime, anywhere, forever. I love the "learn at your own pace." Out of those 22 classes, I have not completed all the lessons of every class, but it's nice to be able to jump around, knowing it will be waiting for you when you return to a class.
YouTube: This link is a search for YouTube quilting channels, but once there, get more specific in your search. I use this regularly. An example, I purchased a new ruler awhile back. Most rulers include some basic instructions, but I think the videos offer so much more, so do a search for "Omnigrid" or "Creative Grids" or whatever specific product you are using that you might benefit from additional information.
Leah Day: Leah has so much content out there for all of us that it never ceases to amaze me. She offers machine quilting lessons (from your own sewing machine, not a long-arm) on her web site, YouTube and Craftsy.
…….and a few more of my favorites:
http://academyofquilting.com/
http://www.thequiltshow.com/
http://weallsew.com/category/tips-education/
http://www.modabakeshop.com/p/recipes.html
http://www.sew4home.com/
http://www.sewmamasew.com/category/tutorials/
So what are some of your favorite quilting sites? Leave your suggestions to add to our list!