I love organizing supplies!  I enjoy the feel of my sewing room (or any room for that matter) when everything is put away, stored in pretty, decorative containers. I don't like spending the money on storage supplies, however, as much as I do buying fabric, which is how this project was born: pizza boxes turned craft storage! The ones pictured here are medium sized from Walmart's deli section, a perfect size for 12-inch blocks or scrapbook pages with a "window" to view the contents inside.
Supplies:
medium size pizza box
spray paint or brush on paint (whatever you have handy) and a sponge or regular paint brush
label holders (I used these from Hobby Lobby)
scrapbook page protectors
These are so simple! After removing the pizza, unfold the box and flatten it on a protected surface. Next apply your paint. I only painted the edges that would show, which means the inside and bottom I left unfinished. Some I did with spray paint, some I used brush on paint, and both came out nicely.

After the paint had dried, I positioned the metal label holder on the center front of the box, then used a sewing awl to mark the hole placement and pierce through the cardboard to make holes.
Next, fasten the label holder to the front of the box as shown, sliding the brads through to the inside of the box. I placed a piece of tape across these afterwards, just to make sure the lid of the box wouldn't catch on the brads when closing.
Next I printed and trimmed some labels to put in the holders. Just in case you're wondering, the WIP stands for "Works in Progress." These were boxes I labeled so they would look good, even though they're empty!! LOL!
Below, you can see I'm more about function than perfection, seen by the paint that dripped to the inside edges of the box, and my rough tape job!  I trimmed off the seamed edges of an 8.5×11 scrapbook page protector to make two clear "window panes." Using tape, adhere one to the inside of the box.  This is strictly optional, a matter of personal taste. I originally worried about stuff falling into or out of the boxes, but since I keep them stacked on a bookshelf, it's never been an issue, so you could leave it off if you want.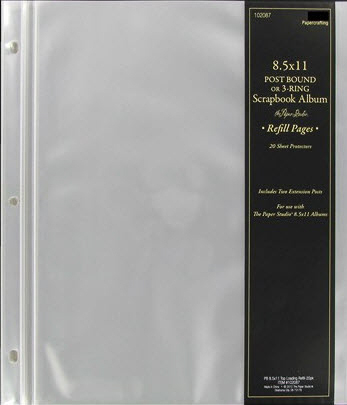 Just one of several BOMs in progress! Have to love Pat Sloan!