Posy Garden Blog Hop Tour and a New Mini Quilt: Pink Lemonade!
This arrived on my doorstep recently. Doesn't it make you just want to drool???
When I was given the opportunity to hang out with Carina Gardner and Riley Blake Designs over some fabric, I was like this!
And despite what you might be thinking, that excitement wasn't just about the fabric, or the chance to hang out online with an awesome group of fellow quilters and bloggers. Have you SEEN the past three days of blog tour posts? I want to make EVERYTHING!
Psssst...the list of everyone blogging is at the bottom of this post.
No, despite these luscious, scrumptious and crisp fabrics, as Bridgette of The Family Hearth so aptly described Tuesday on her stop of the tour, one big reason I was excited to work with Carina is because of all the other things she does besides quilting and designing.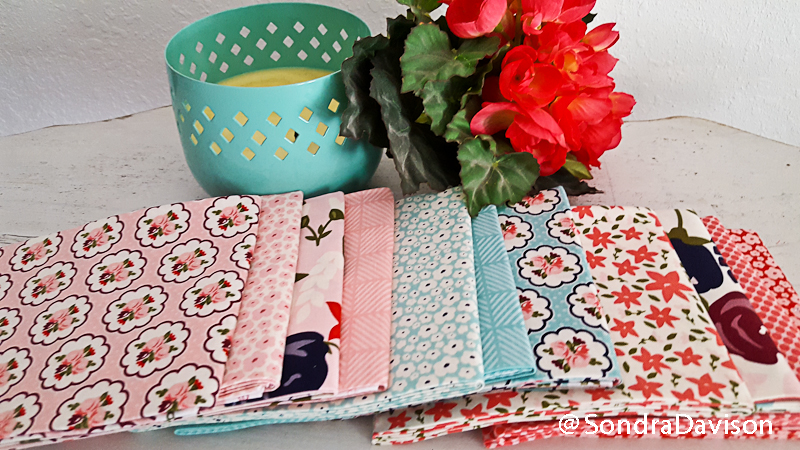 Carina teaches. And she's an awesome instructor. It was through her online classes that I learned proficiency in Adobe Illustrator, one of the programs I use to write patterns.  When it comes to making a quilt pattern, I personally think it takes a lot more time at the computer desk than it does at the sewing table. I feel I've been following Carina long before she was a quilter, but maybe not. That was in my scrapbooking days. I always say "scrapbooking is just quilting with paper. Cut it all up and put it back together again."
Above is a screenshot of the quilt I'm about to introduce you to: Pink Lemonade Mini. This was a quilt I designed in my head a couple of years ago in a larger version. I made it and it's hung across the sofa, the stair rail and numerous other spots in this house, waiting for it's chance to be put on paper and out into the world for others to make.  The full size even made it into some pictures in a previous blog post here.
So, rather than provide you with a tutorial of how to make Pink Lemonade Mini, I've decided to share with you a real live pattern, a chance to see the fruits of Carina's teaching ability on my writing and computer capabilities!!
I want you to "hop" on over and visit some of the other bloggers on the tour, but then stop back by here tomorrow  (or hopefully later today) by which time I will have figured out how to provide a downloadable PDF here on my blog, rather than put it in my shop. I'll also share the details of how this quilt got it's name, tips and tools I used in the making of this, and maybe even a bit more about the computer side of quilting!