Perfect 10 Sampler Quilt Along – Week 7
Week 7 of  Fat Quarter Shop's Perfect 10 Sampler Quilt Along and we are almost done, folks! Can you believe it? Above, can you see how full my design wall is getting? It's crazy how fast it's filled up. Love it!
This week's blocks make me so happy! I love what I am constantly referring to as "bonus blocks." In case this is your first time visiting, let me explain. When a pattern says to draw a diagonal line, stitch on the line, then cut away and discard the excess to create a single half square triangle (HST), I take an extra step.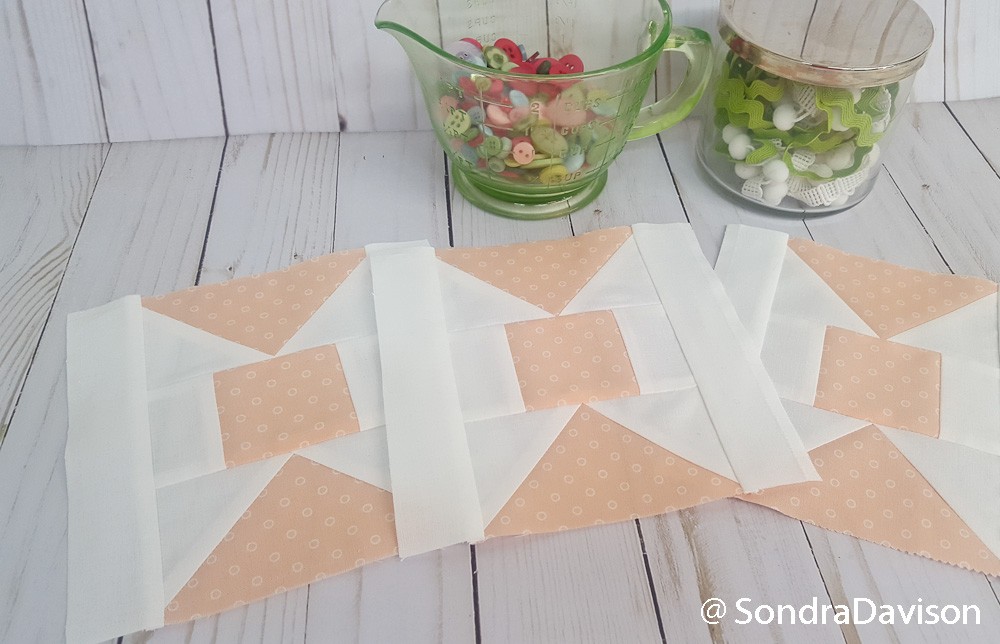 I never discard. Not for years. I always draw an additional diagonal line in the excess beyond the first line,  sew on both lines, then cut in between them, leaving me with the required block and a "bonus block," a smaller HST.
This week we made six Neapolitan blocks with two different prints. Each block had two flying geese, resulting in four bonus blocks per Neapolitan block.
By the time I had finished, I had 24 bonus blocks to set aside for "someday."
Yep, you can just color me Half Square Happy this week!!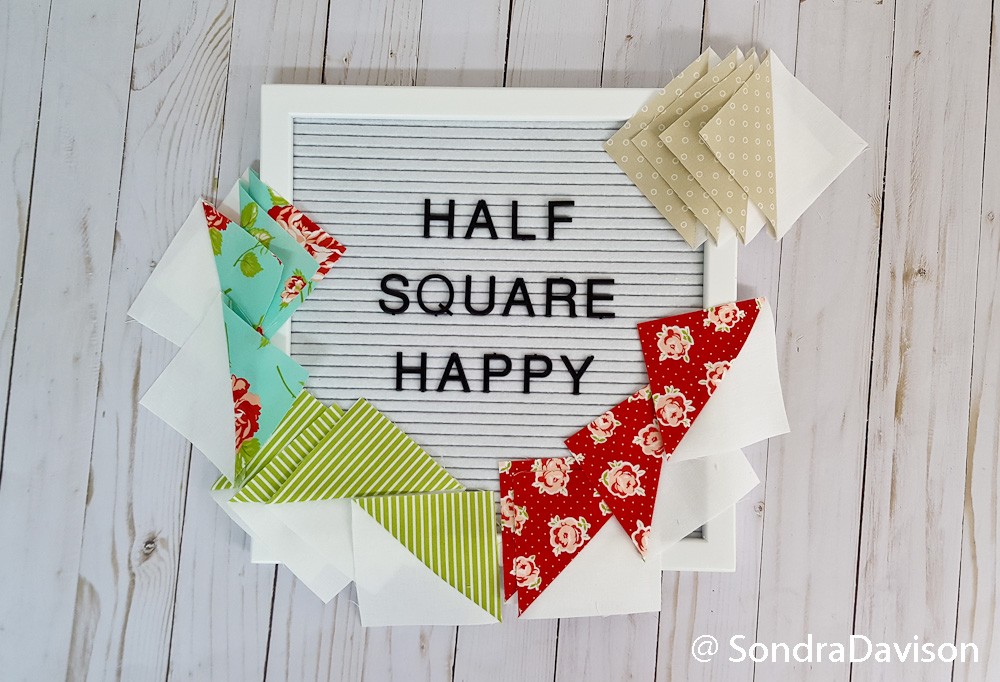 Not only did I have 24 smaller HSTs from my Neapolitan blocks but look at all these lovely big HST bonus blocks I saved from my Peaches 'N Cream block! Even though we only made one Peaches 'N Cream block, it packs a wallop, measuring 16½" unfinished. I love the big blocks!
Even if you haven't quilted along with us the past several weeks, you can still make your own Perfect 10 Sampler Quilt.  If you're looking for quick ideas for last minute Christmas quilts, any of the 16 fabulous designs included in the Perfect 10 Book  by It's Sew Emma  would go together in a snap.
Resources for the Perfect 10 QAL
Who's Quilting Along
Let us see your Perfect 10 Sampler blocks  on Instagram or Facebook using #FQSPerfect10 ! Here's our schedule for the next several weeks. I hope you'll join us!
October 9, 2018 – Banana Block and Birthday Cake Block
​October 16, 2018 – Buttered Pecan Block and Coconut Block
​October 23 – Coffee Block and Cookie Dough Block
​October 30 – Cookies 'n Cream Bock and Cotton Candy Block
November 6 – Dutch Chocolate Block and French Vanilla Block
November 13 – Lemon Sorbet Block and Mint Chocolate Chip Block
November 27 – Neapolitan Block and Peaches 'n Cream Block
December 4 – Rainbow Sherbet Block and Rocky Road Block