Patchwork Quilt Along Big & Small, Block 3
Month 3 of our Quilt Along. One-quarter of a way through it and the year. How are those resolutions coming along? If not well, at least we can be happy that we're getting all these blocks done, yes?!
Today I moseyed over to Grey Dogwood Studio to see Greg's blocks and had to share one of his comments.
Each month I've tried to include a variety of prints: gingham, ditsy and large scale floral. I've reserved the medium and large scale florals for the blocks with larger pieces, and I am using the smallest prints for the blocks with the smallest pieces.

~  Greg Jones, Grey Dogwood Studio
I thought that was an awesome tip to share, especially as I'm doing the same thing with my Big Blocks.  Block 3 has large pieces, making it an excellent choice for showcasing large-print fabrics.
My red print is from Bliss, an older collection designed by Bonnie & Camille for Moda Fabrics. I'll warn you now. I've been collecting since B&C started designing fabric, so you may see some oldies but goodies before this year ends. I'm a firm believer in "use it up."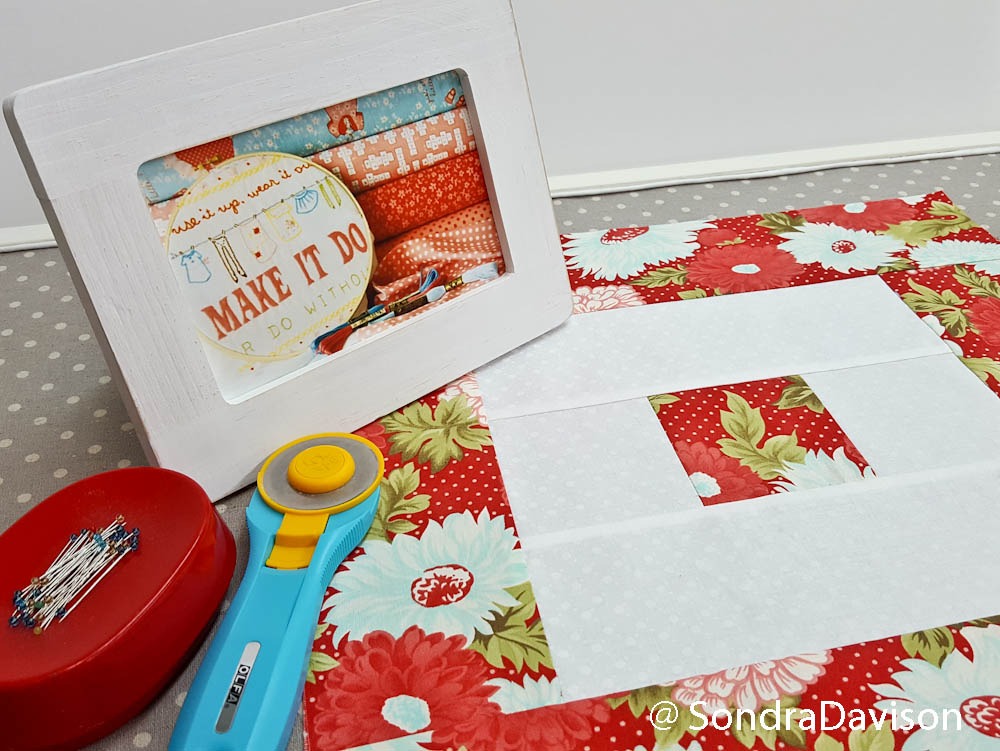 I've also started playing with some ideas for sashing, in case you're wondering about the white and aqua in some of these pics.
And finally, here is your Big Block for Month 3. Click the PDF link under the picture, and it will take you to Dropbox to open/download the file and print. You do not need to have an account with Dropbox to do this.
Each month during 2017, Fat Quarter Shop will post a new free pattern and video tutorial for the Patchwork Quilt and encourage participants to donate to Make-A-Wish Central & South Texas in lieu of payments. Fat Quarter Shop and Moda Fabrics will each match up to $10,000 of the donations raised. (#awesome)  Learn more about it and how you can help here!
Check out the blogs every month of our quilty friends. Watch their process, and see what fun fabric collections they have selected!
*Psst! The designers of the quilt's fabrics – Bonnie & Camille – are sewing along, too! Fun!
Please share your progress and creations along with all of us on our Patchwork Facebook group. Post your blocks using #patchworkquiltalong on Facebook, Twitter, and Instagram.