Patchwork Quilt Along Big Block 6
Month 6 of our Patchwork Quilt Along. Yikes! We are half way through this project!! Today I've given you my monthly Big Block measurements on the standard download at the bottom of this post, but I fudged a bit on mine, as I was using from my yardage stash for this block. My print this month is from Vintage Modern, an older collection designed by Bonnie & Camille for Moda Fabrics. Instead of cutting individual squares and piecing them back together, I did some strip piecing and sewing. If you're using yardage and want to do the same, you'll need to cut:
BACKGROUND
A. (2) 3⅞" squares
B. (1) 3½" x 28½"strip and
(4) 3½" squares
PRINT
C. (2) 3⅞" squares
D. (1) 3½" x 28½"strip and
(1) 3½" square
After cutting your strips, sew them together, press open and square your first cutting edge.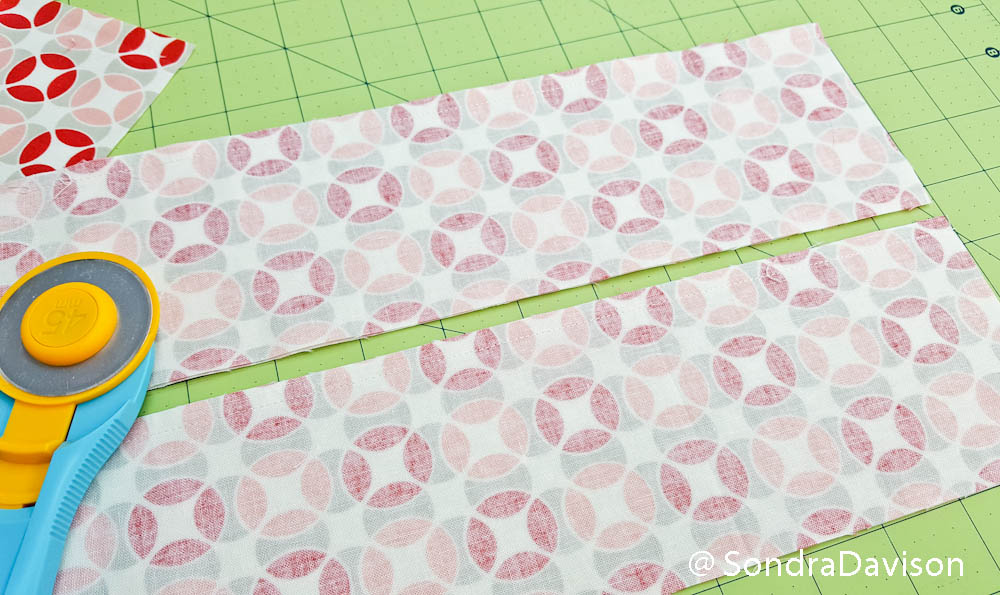 Cut your strip set into (8) 3½" x 6½" pieces. Next, assemble your half-square triangle blocks for the corners per the normal instructions from Fat Quarter Shop.
Now assemble your Strip Set Blocks, HST Blocks, and single 3½" blocks together to make the five rows of the block in the order shown below. Once your rows are assembled, press your seam allowances in opposing to directions, then assemble your block, continuing to follow the Fat Quarter Shop instructions.
[wc_box color="primary" text_align="right" margin_top="" margin_bottom="" class=""]
Row 1 and 5 = HST + (1) Strip Set Block (background block on the left) + Background Block + HST
Rows 2 and 4 = (2) Strip Set Blocks (background block on the left) + Background Block
Row 3 = (2) Strip Set Blocks (print block on the left) + Print Block
[/wc_box]
And here is you monthly download for Big Block 6!
Each month during 2017, Fat Quarter Shop will post a new free pattern and video tutorial for the Patchwork Quilt and encourage participants to donate to Make-A-Wish Central & South Texas in lieu of payments. Fat Quarter Shop and Moda Fabrics will each match up to $10,000 of the donations raised. (#awesome) Learn more about it and how you can help here!
Check out the blogs every month of our quilty friends. Watch their process, and see what fun fabric collections they have selected!
*Psst! The designers of the quilt's fabrics – Bonnie & Camille – are sewing along, too! Fun!
Amanda from Jedi Craft Girl (@jedicraftgirl)
Amy of Diary of a Quilter (@diaryofaquilter)
Andy of A Bright Corner (@abrightcorner)
*Bonnie of Cotton Way (@bonniecottonway)
*Camille of Thimble Blossoms (@thimbleblossoms)
Debbie of Happy Little Cottage (@happylittlecottage1)
Greg of Grey Dogwood Studio (@greydogwoodstudio)
Heidi of Buttons and Butterflies (@buttonsandbutterflies)
Melissa of Happy Quilting (@happyquiltingmc)
Melissa of Oh How Sweet (@ohhowsweet)
Pat Sloan of PatSloan.com (@quilterpatsloan)
Renee of Sewn with Grace (@sewnwithgrace)
Sedef of Down Grapevine Lane (@downgrapevinelane)
Sherri of A Quilting Life (@aquiltinglife)
Please share your progress and creations along with all of us on our Patchwork Facebook group. Post your blocks using #patchworkquiltalong on Facebook, Twitter, and Instagram.