Crossroads Quilt Along Mini Quilt Pieced Backing
For those of you following my miniature version of the Fat Quarter Shop's Crossroads Quilt Along, your patience is incredible!  And very much appreciated. My mini has been done for ages, but I still need to quilt my full size version. Tonight, I'm taking a break between dress rehearsals for our church's children's Christmas program. Hopefully, if I type and upload pictures quickly enough, I'll be able to get this post published before I'm called back to work the computer slides. #lovethosekids
I have a quick confession, though, about my miniature quilt. I've provided the miniaturized backing measurement instructions at the bottom of this post, but I did not make a mini backing for my own quilt. I knew I would only be hanging this quilt (and thus never see the back), so I chose a solid piece of backing which you can see here. I cut it approximately 43″ x 53″ along with my batting. My full-sized quilt, however, does have the pieced backing, because I love reversible quilts, like two for the price of one!
I used a single fabric for the backing, a simple tone on tone cotton. I also stayed simple with my quilting, an easy going stipple. When I sew, I normally listen to books. All kinds. Fiction, biography, inspirational, self-help, bible commentaries….I also love podcasts, Study Gateway, Right Now Media, to name just a few. HOWEVER….when I quilt (not sew or piece) but actually quilt…I HAVE to listen to country music. It's the weirdest thing, but it's the only way I can get into a rhythm. On this quilt is was good, ol' Luke Bryan that got me through all those meandering curves.
With the stippling finished, it was time to sew on the binding…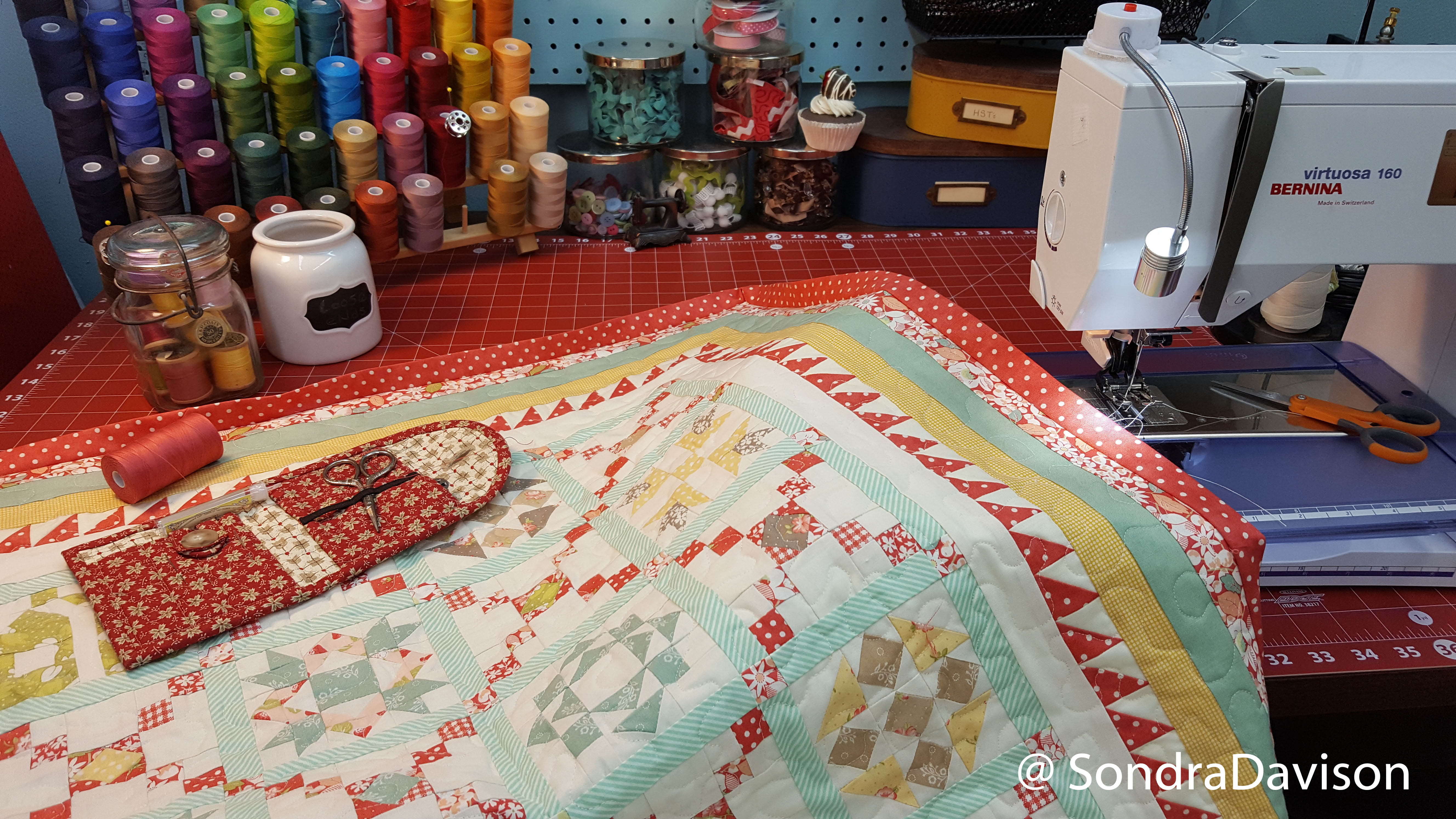 …then gather up hand tools to finish it.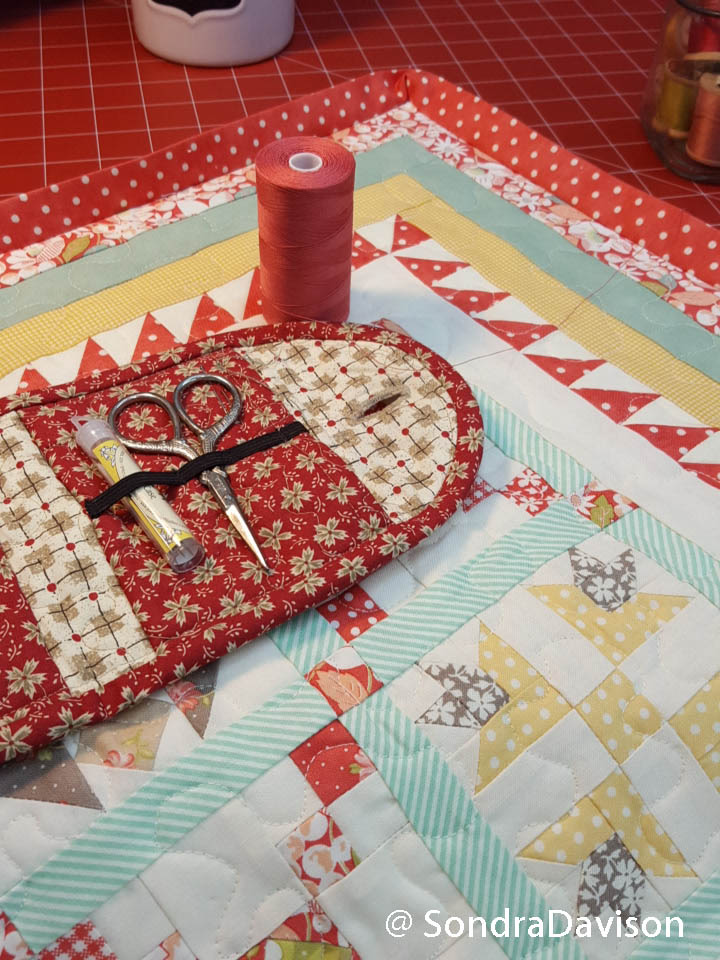 #loveprettysewingtools
And here we are….our final instructions (insert sad face). However, I'm super excited about starting the next Fat Quarter Shop's Quilt Along that's just around the corner!! If you haven't heard about it yet, check it out here!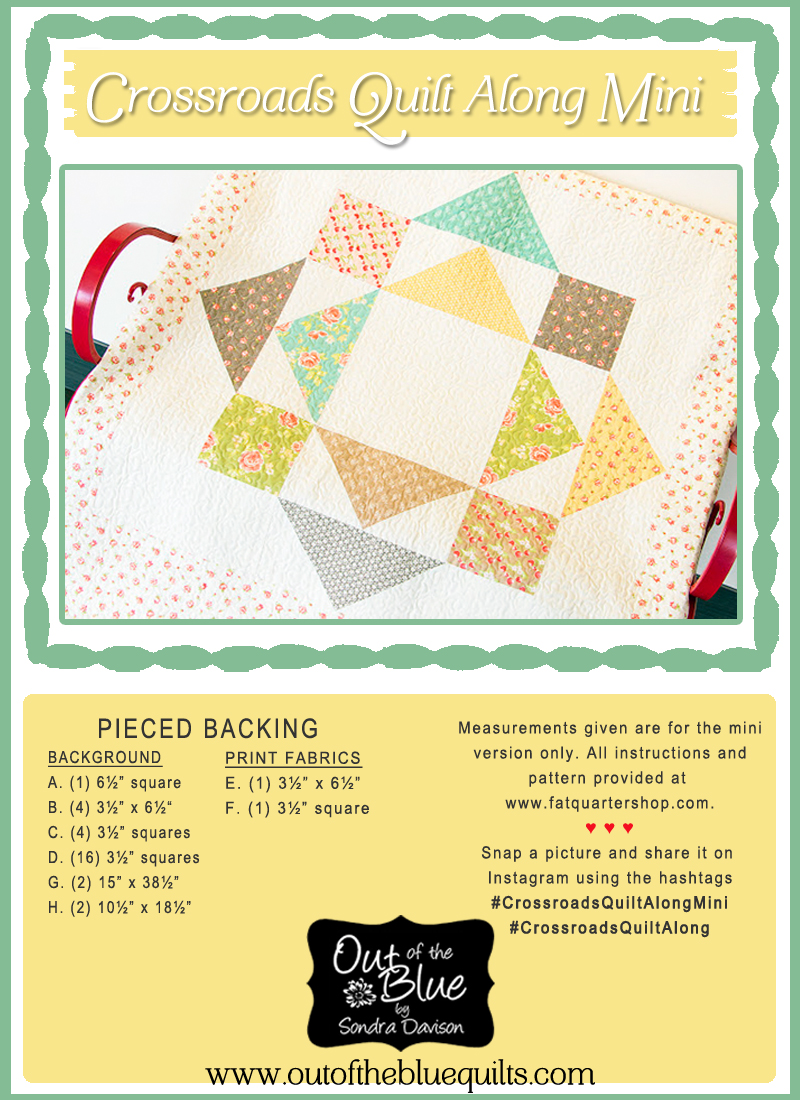 Monthly Reminder for the Crossroads Quilt Along Mini Quilt
If you're not familiar with the Crossroads Quilt Along, I wrote more about it here. The instructions for each 8-inch, full size, monthly block are provided by the Fat Quarter Shop. You need those instructions, as I am only providing replacement measurements to create a 4¼" block each month. Share your progress and creations with us on Crossroads Facebook group. Post your blocks using #crossroadsquiltalong and #crossroadsquiltalongmini on Facebook, Twitter, and Instagram.