Patchwork Quilt Along Big Block and Small
Today, I want to introduce my Patchwork Quilt Along Big Block, a super-size bonus to Fat Quarter Shop's Patchwork Quilt Along, and also share with you my regular-sized blocks from this month and last month. If you're reading about PWQAL for the first time, scroll to the bottom of this post for more details or click the link in my sidebar on the right.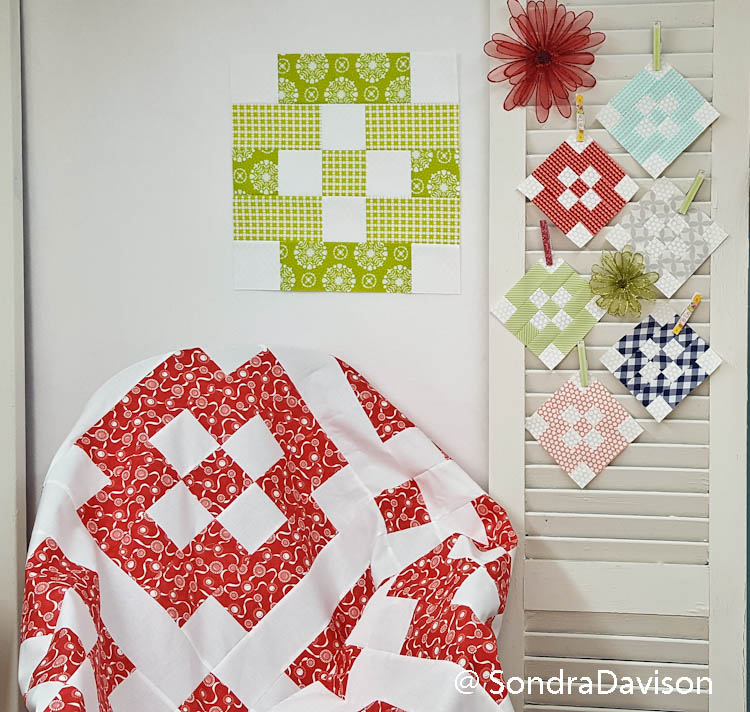 As seen in both pictures, I have a "Big Block." While sewing along with Fat Quarter Shop's Snapshots and Crossroads Quilt Alongs, I made and shared miniature versions of each month's blocks. Since PWQAL blocks are already pretty small, the thought of miniaturizing a 5-inch block didn't hold much appeal. Thus, a Big Block bonus instead.
I'll be making a Big Block each month, with those blocks being assembled into one quilt at the end of this quilt along. I'm not sure if you noticed in the pic above, I also made an entire quilt, using (12)  Souvenir of Friendship Big Blocks. Each month I'll share the cutting dimensions for the Big Blocks here, which can then be used with the assembly instructions provided by Fat Quarter Shop, although for this patchwork tasks there are also a lot of resources online, you can visit this Patchwork Fabric: How to Utilize in Our Daily Lives so you can get help with your work.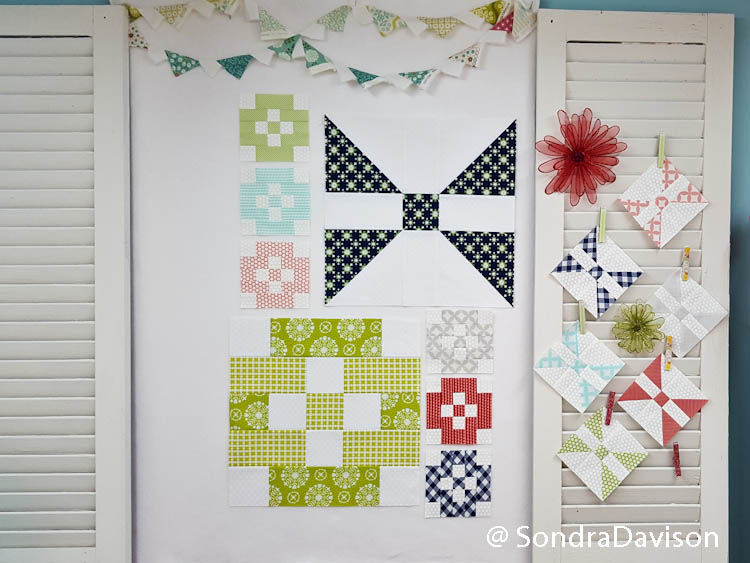 Don't they look cute together? I'm going to need a much bigger design wall. Besides the monthly cutting dimensions, I will be discussing alternative cutting and sewing methods for making quilts. More to come on that. Check back before the weekend, when I release the cutting dimensions for the Big Block.
Now, for the important details. The Patchwork Quilt Along benefits:
Each month during 2017, Fat Quarter Shop will post a new free pattern and video tutorial for the Patchwork Quilt and encourage participants to donate to Make-A-Wish Central & South Texas in lieu of payments. Fat Quarter Shop and Moda Fabrics will each match up to $10,000 of the donations raised. (#awesome) Learn more about it and how you can help here!
Check out the blogs every month of our quilty friends. Watch their process, and see what fun fabric collections they have selected!
*Psst! The designers of the quilt's fabrics – Bonnie & Camille – are sewing along, too! Fun!
Please share your progress and creations along with all of us on our Patchwork Facebook group. Post your blocks using #patchworkquiltalong on Facebook, Twitter, and Instagram.