Carolina Lily Quilt Block: Free QAL from FQS

One of my current projects is the Carolina Lily quilt block, part of the Classic & Vintage series provided by the Fat Quarter Shop. Be sure to stop by the FQS Jolly Jabber blog to see the tutorial and video for this block!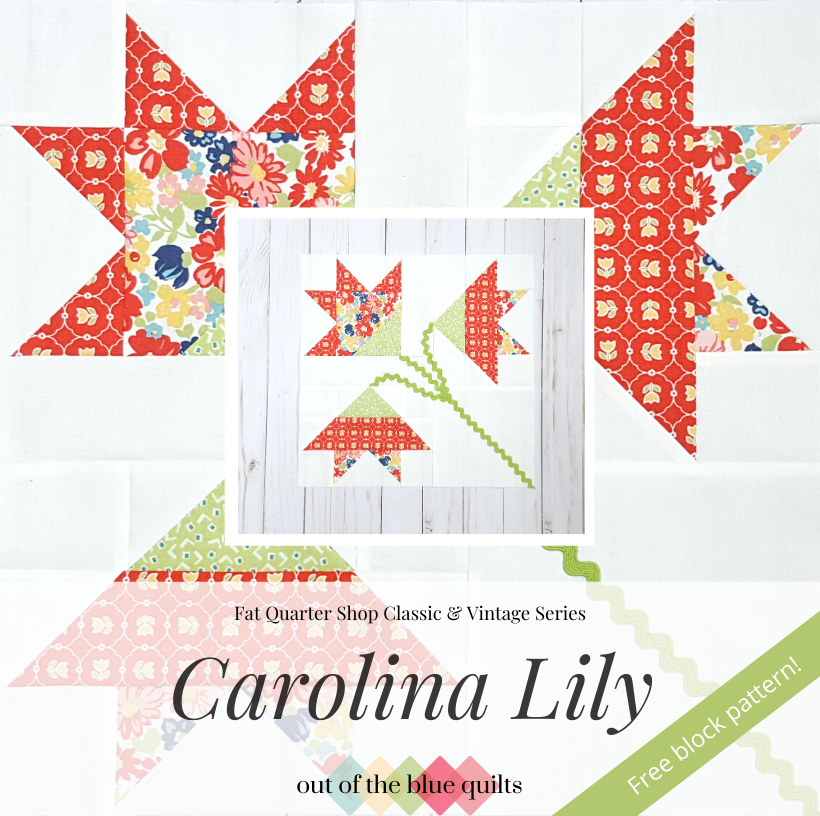 This is a free block pattern, but FQS also has a beautiful kit available that includes the Carolina Lily Quilt Pattern and At Home fabrics by Bonnie & Camille for a 44.5″ square quilt top and binding. It even includes a Clover 1/2″ Bias Tape Maker .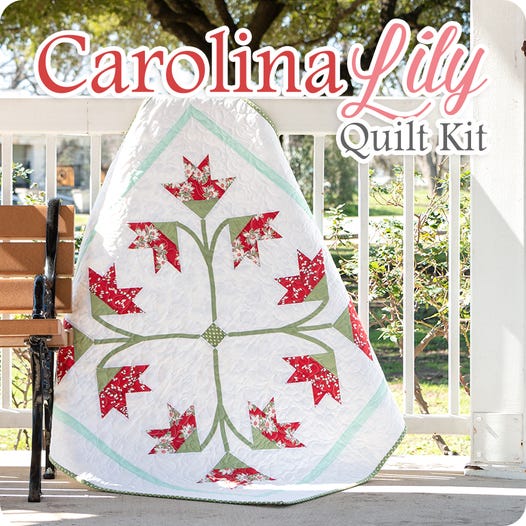 Preparing to Sew
I'm using Lori Holt's Vintage Happy 2 for Riley Blake fabrics I pulled from the 10-inch stacker bundle included in my January Sew Sampler box from the Fat Quarter Shop.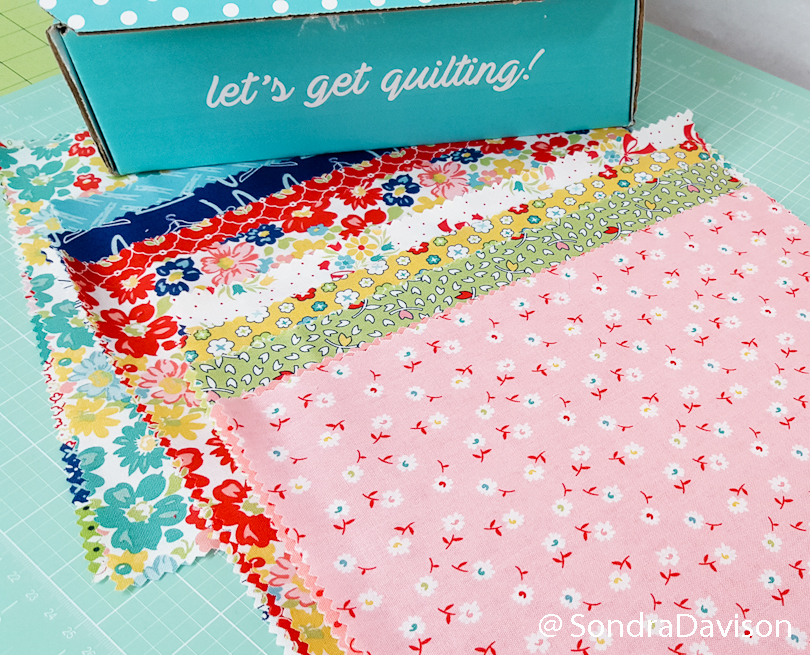 Side note here – I really love my Sampler boxes. I'm one of those quilters that bought and hoarded so much in the beginning of my quilting journey, that today I really struggle with buying new supplies. There's only so much space.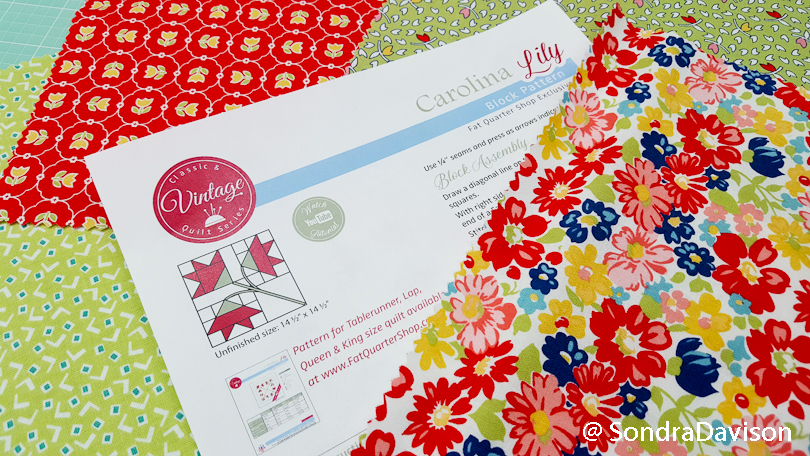 Therefore, deciding to sign up for the Sampler boxes was HUGE for me, but I have no regrets. Every month, I am introduced to new tools that I really, really use and love. Even better, I get a sampling of fabrics that I might not buy otherwise, and I love the variety of color and texture they add to my current projects.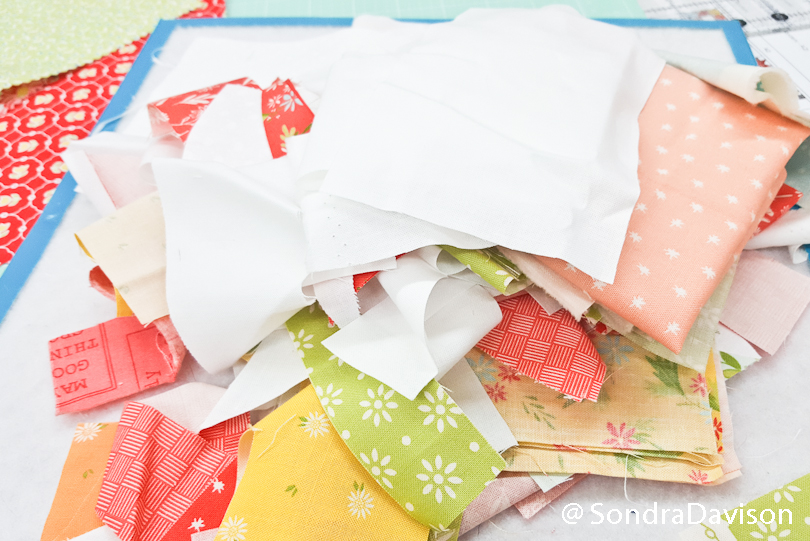 I still feel the need to keep using scraps, though. I've been working on my Bloom-Topia quilt blocks and pulled enough scraps from that project to use for my background on the Carolina Lily block (Moda Bella Solids Off White 9900-200).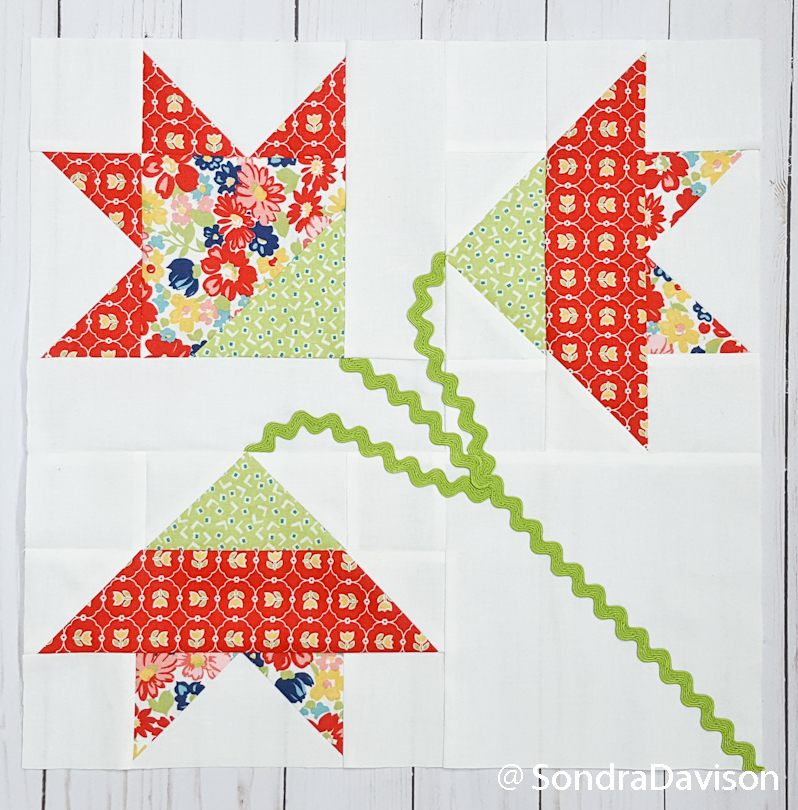 This is my finished block. It varies slightly from the Fat Quarter Shop version, because I chose to use rick rack trim in place of fabric bias strips, mainly to save a bit of time.
Adding Rick Rack Trim
The first thing I do is sew my entire block together…then I rip.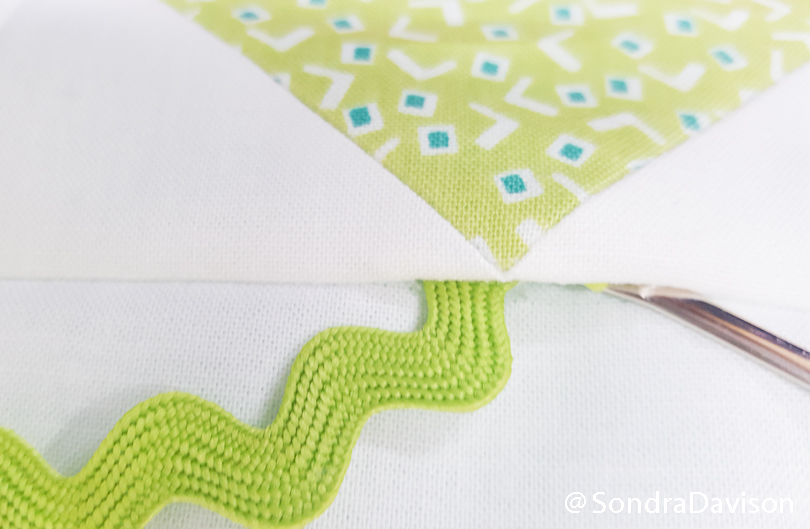 Open the seam just enough to insert the rick rack in place, then sew the seam shut again. Doing it in this order allows the seam to lay flat.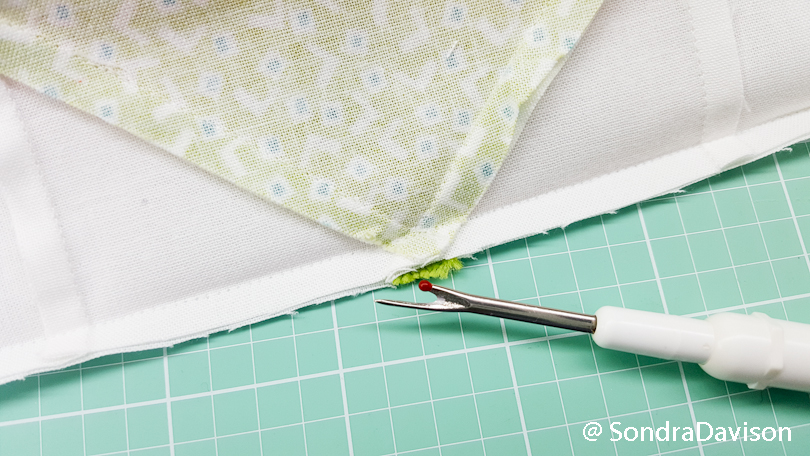 If you sew the rick rack in beforehand, then press, it's bending over on itself, creating some nasty bulk.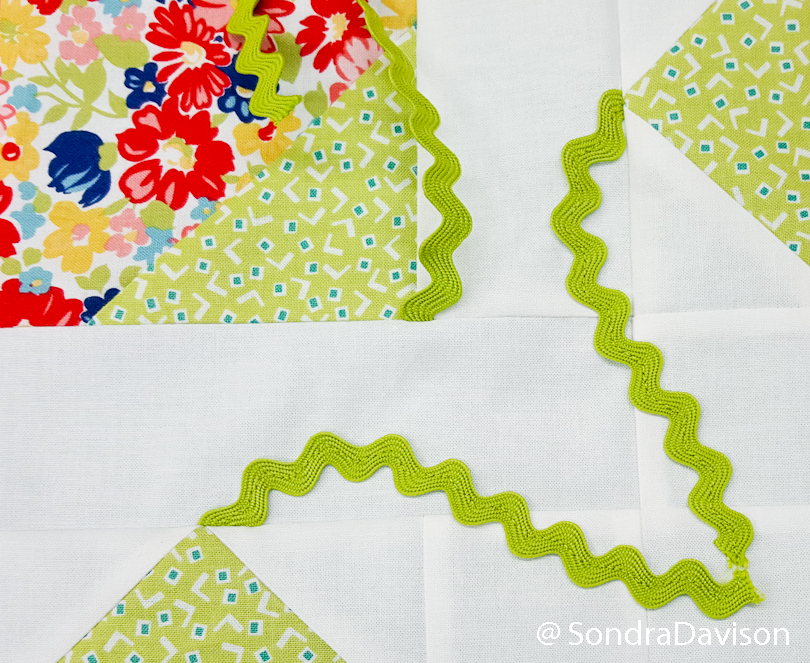 Next, maneuver your rick rack into place (using the finished pattern picture for reference). I pin and then stitch with a matching thread the two side pieces of rick rack first.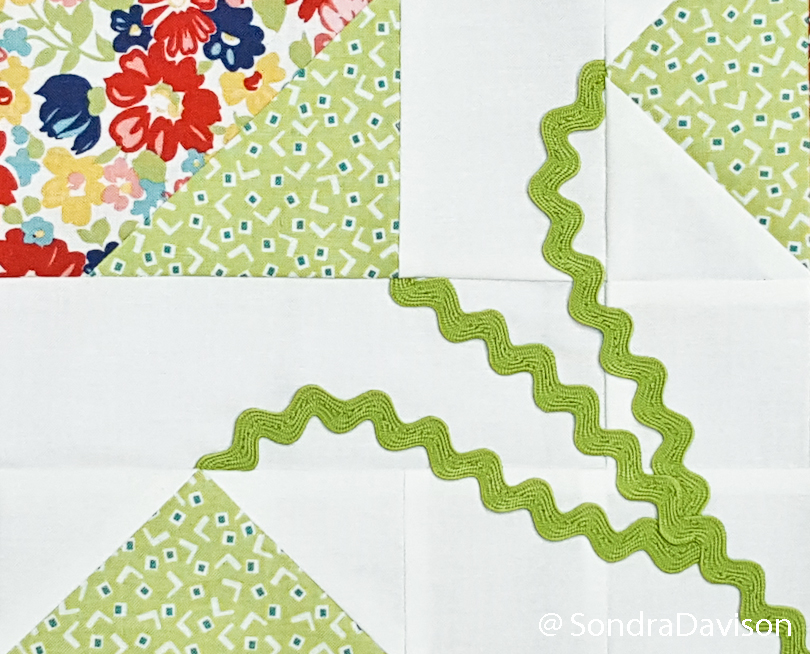 Position the center piece of rick rack so it covers the raw edges of the side pieces of rick rack underneath it. I purposely stitch so I am catching the trim underneath on both the right and left sides of the center rick rack. I know it looks like I was sewing really crooked and I was, on purpose.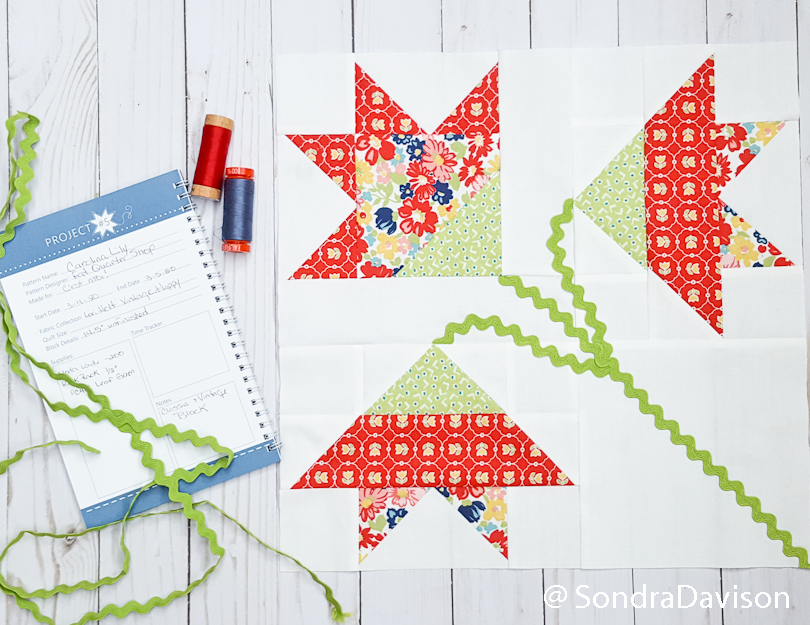 I even remembered to add my block to my quilting journal, yet another item from my Sew Sampler Box subscription!
Project Supplies
Here is a basic list of what I used for my blocks, as well as products available from the Fat Quarter Shop to make their entire quilt.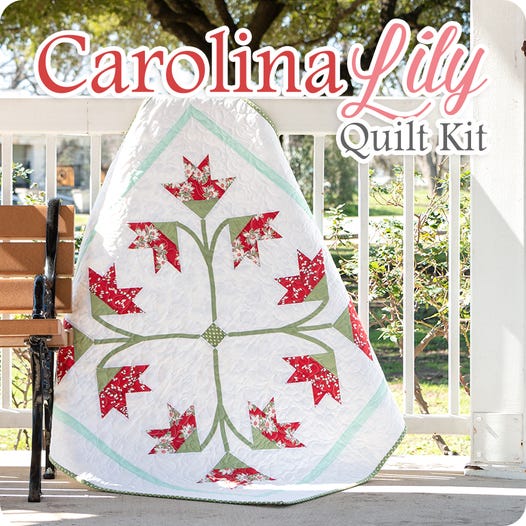 The Fat Quarter Shop has a Carolina Lily Quilt Kit available. The kit comes with the At Home by Bonnie and Camille for Moda Fabrics and a Clover 1/2″ Bias Tape Maker to make the stems.
If you're ready to sew along with us, download your FREE Carolina Lily block pattern and watch Kimberly's video tutorial for a step-by-step guide on making your block.

There are several bloggers quilting along and sharing their blocks. I'd love to see your version of the Carolina Lily block or quilt using #CarolinaLilyQuilt on Facebook and Instagram and tag me @sondradavison so I can see and share your work!