Cake Mix Monday Buttercream Quilt
Happy Cake Mix Monday and my Buttercream Quilt reveal! You are in for a sweet treat (pun intended).  If you're new to this quilt along,  it is courtesy of the  Fat Quarter Shop. Buttercream is just one of 16 quilts featuring Moda's Cake Mix Recipe Cards from the The Cake Mix Quilt Book Volume One by It's Sew Emma Patterns.
I love this sweet thing! I think everyone reading my blog knows I'm a big fan of Moda's Bonnie & Camille fabrics, and this beautiful new fabric line, Vintage Holiday, is scheduled for release in April. If you like it, pop over there and sign up to be notified when they get it in the store.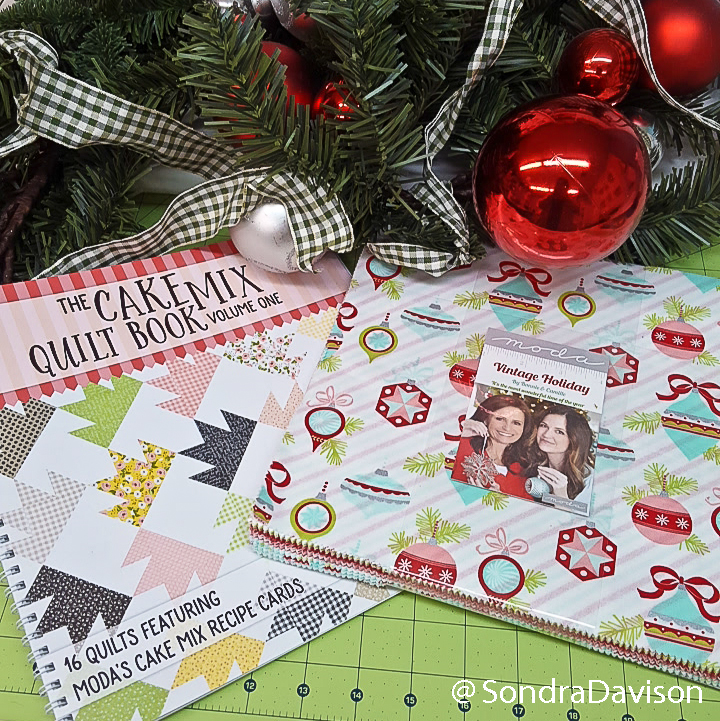 Along with my printed fabric, I used Moda's Bella Solid 9900-97, which happens to be the Basic of the Month and is on sale right now at the Fat Quarter Shop! I buy this particular solid by the bolt from FQS, so I cut my 10″ squares rather than using a layer cake.
I explained the process used to make the Cake Mix quilts when I shared my Taffy Quilt with you in December. The same procedure is used here, but Buttercream has lots more half square triangles – lots! I've noticed, reading the book, that as each week passes and the book progresses, the number of HSTs increases per quilt, as well.  Whereas the Taffy Quilt had 384 HSTs, dear Buttercream came in at 700.
Lots of sewing,  pressing, and minor squaring up (the paper piecing makes this so nice), followed by more sewing and assembly.
And somewhere along the way,  this happened.
So then, this happened.
Recurring tendonitis. Big time1. So, with lots of ibuprofen, a new brace and some physical therapy exercises, things improved, but what really got me through it was this little Steamfast iron. Oh my gosh! It weighs next to nothing and takes all the strain off my wrist.   I don't even use steam when I press, but this gets super hot and is great for pressing all those tiny blocks. Love, love, love!
Because of all the wrist problems, I chosed to finish Buttercream with a very simple stipple quilting. For me, it's quick, and my longarm quilter of choice wouldn't have had it finished in time for me to share today. Of course, if she had been quilting it, I wouldn't have been ripping out these stitches, below!
Despite the occasional ripping, all's well that ends well, and I love the finished quilt. I give my most quilts away, but this one's just for me Oh! And I almost forgot….I left off the final row, purposely, wanting it a bit shorter, so this one finished at 72½" rather than pattern's called for 80″ length.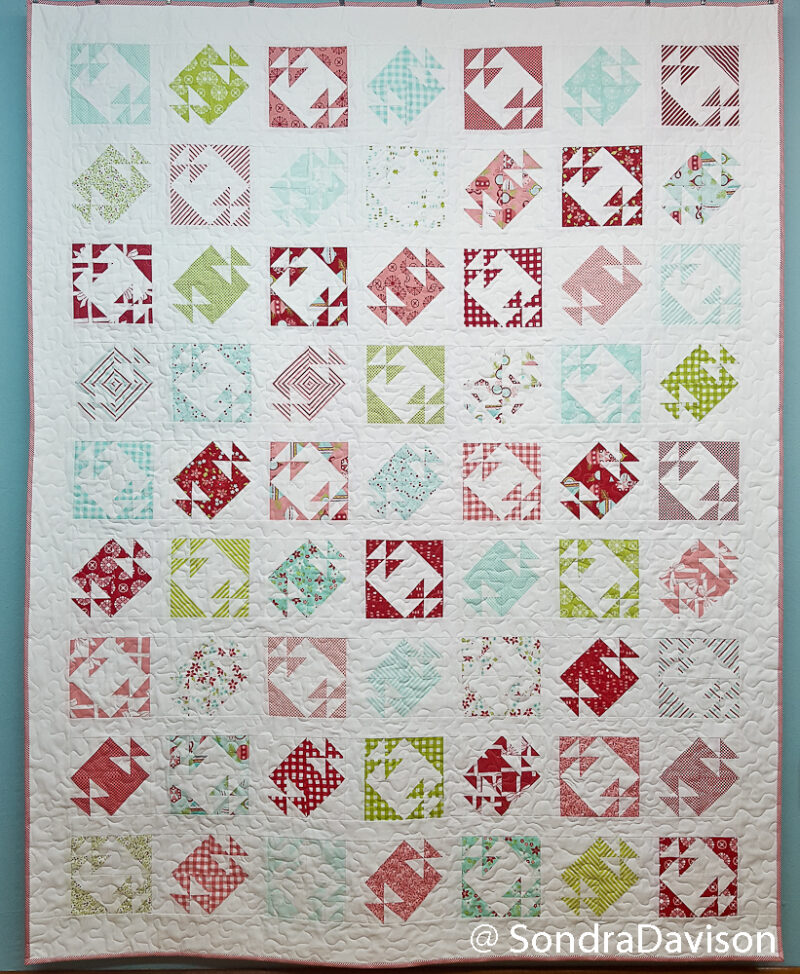 Items I used for Buttercream
Don't forget to check back with the Fat Quarter Shop each Monday to see everyone quilting along!