Clementine Quilt Along – Broken Berries
Welcome to Broken Berries, Block 2 of the Fat Quarter Shop Clementine Quilt Along!  In case you haven't caught Clementine fever, it's never too late to jump right in, so let's get started!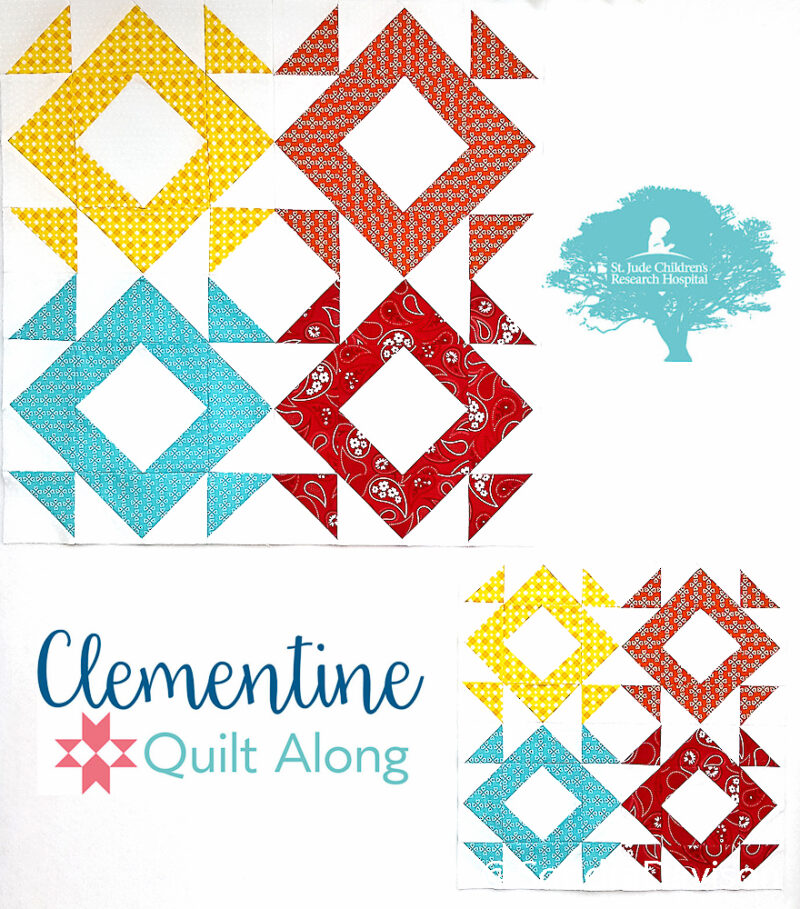 Broken Berries went together smoothly, even though I did mismatch a few points with all those half square triangles. Normally, I will rip something apart a dozen times if necessary to make it "exact," but this year I am really trying to focus on B- work.
I know,  I know. That sounds crazy, even to me. Sometimes, I think as quilters, creatives, artists….we strive so hard toward perfection that it sucks the joy right out of the creativity process, even the finished project. I think we should strive for A+ work, but love and appreciate the B- work just as much and not let it spoil our joy.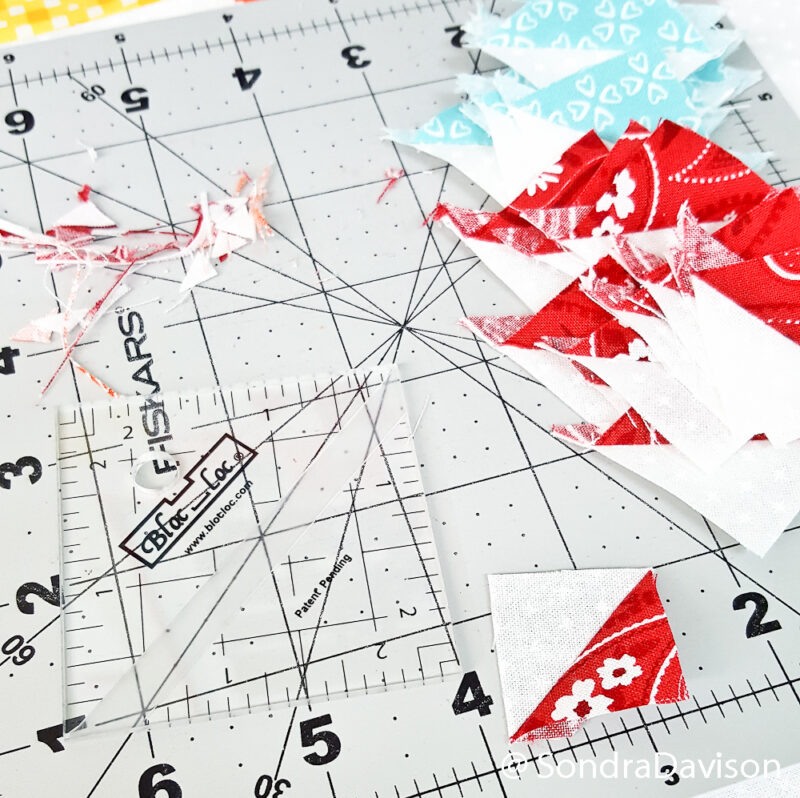 This is especially important for me, because I take twice as long as needed to make the blocks. I sew TWO seams for every ONE seam required on a block when the instructions  call out to "draw a line, sew, trim excess." I never throw away those trimmed corners. Instead, I sew another seam, half an inch away from the first one and make a bonus block. My collection is really growing (for years) but this quilt will have so many bonus blocks, I'm planning to make a mini quilt or other small projects  from my mini HSTs and some additional background fabric.
Speaking of background fabric – heads up!! Fat Quarter Shop's Basic of the Month promotion is for Bella Solids by Moda Fabrics. Through the end of the month, customers receive 20% off all Bella Solids yardage and precuts. This promotion ends February 28th so act now!
I buy entire bolts of Moda's 9900-97 and 9900-98 because I go through them fast. The -98 fabric is a very bright, pure white, where as the -97 has a faint cream tone to it (perfect with Bonnie & Camille fabrics). In my basement, no-window, sewing room you can't see a difference. However, when you take them both outside in daylight (not even in the house…it has to be outside or a room with a lot of windows) there is a big difference. Don't ask me how I know. It's a depressing story. Needless to say, I own an Ott-Lite, now.
Be a Part of the Clementine Quilt Along
Drop by the Clementine Quilt Along page on the Fat Quarter Shop's blog. This quilt along benefits the St. Jude Children's Research Hospital . Fat Quarter Shop is partnering with Moda Fabrics to match up to $20,000 of donations made by us for this awesome cause. So even though the patterns are completely free, please DONATE today!
Order a Clementine Quilt Kit.
Get your patterns on the 25th of every month through July 2018.  And remember, donations are accepted for the downloads which benefit the St. Jude campaign each time you download the patterns.
Visit all the blogs sewing along!

Visit the designers and quilters who are sewing along on their blogs and Instagram!