2020 Bloom-Topia Quilt Along – Release 9
Hello quilty friends! Today on the cutting table, I'm sharing Fat Quarter Shop's 2020 Bloom-Topia Quilt Along Release #9.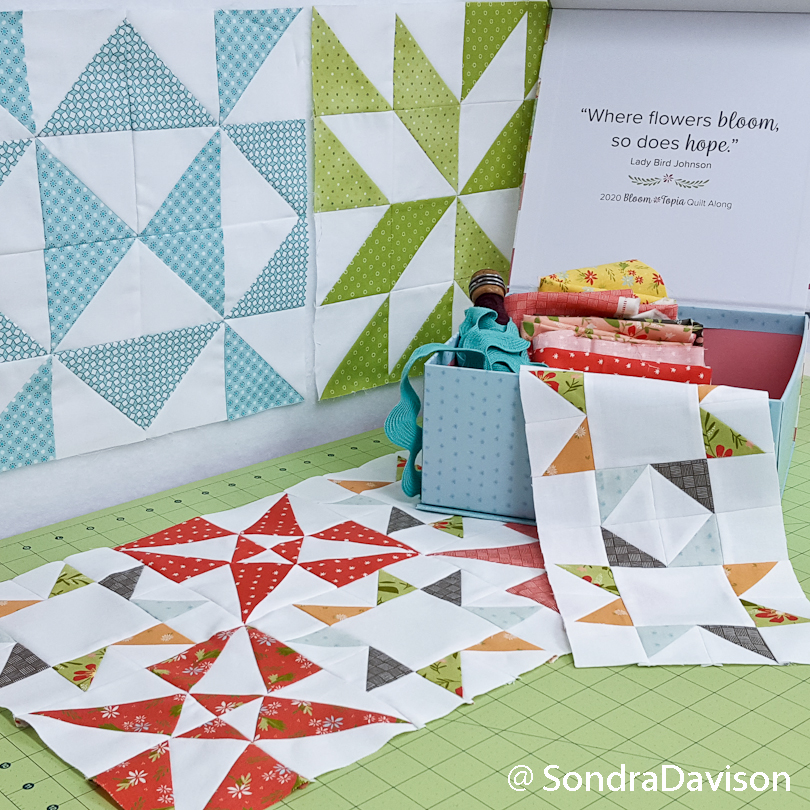 This release has a lot of sewing, and of all the blocks we've made so far, I'd say this one requires a little more thought work.
First up is the Evening Star block (on the right), a simple design of two combined star blocks, measuring 6½" x 12½".
The second block is the Dragonfly, which is really six blocks combined into one large 12½" x 18½" finished block. It includes three more of the star blocks and a funky little dragonfly-type block which was fun to make, but this is where you had to put a little thought into it. If you are into crafting you can visit Liberty of London fabric website for more supplies.
Unfortunately, I guess I was so busy thinking about the block and making sure I did it right that I somehow missed taking all my in-progress pictures for these!
Preparing Materials
Normally, this is the part of the post where I show you pics of my precut fabrics and Alphabitties labels. Since I missed all those, I'll instead talk about the template that comes with this block's instructions.
The pattern features the Starburst 30 Degree Triangle Ruler by Creative Grids.
I chose to improvise, and instead used my Creative Grids 30 Degree Triangle Ruler. The paper template that comes with the pattern (shown above) works fine, as well. It can be used to trace the shape on to the fabric, then cut out the pieces.
I started with the paper template to get my initial shape drawn on my fabric strips, then used my 30-degree ruler to make all my remainings cuts. There is a total of 36 of these triangle blocks, so I did think using a ruler helped to speed up the process.
Whatever method you choose, they all will work efficiently, so enjoy!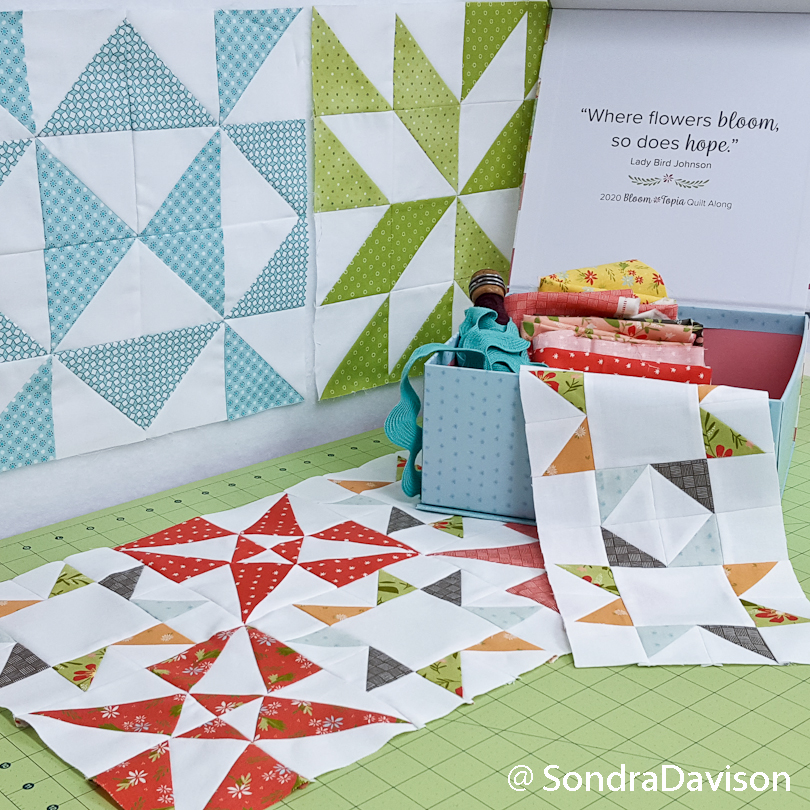 If you're not already, follow the Bloom-Topia Quilt Along web page which includes this and all the patterns, as well as video tutorials.
All About the Bloom-Topia Quilt Along

Starting February 1, 2020, Fat Quarter Shop releases two patterns each month for six months on their blog. Simply follow along to know when the patterns are posted! FQS will also be filming free complementary videos for each pattern.
With all our help, we can reach the goal of $30,000 in donations towards Make-A-Wish Central & South Texas! With each donation, we're getting closer to the goal of granting FIVE wishes, and closer to releasing a new finishing pattern.
Just a reminder that this year's QAL benefits Make-A-Wish Central & South Texas. Fat Quarter Shop offers all of the patterns for free, but offers the opportunity to make a $5 donation per pattern download to support Make-A-Wish. All proceeds from the pattern downloads will be donated to Make-A-Wish Central & South Texas, with Moda Fabrics partnering along. To learn more about the cause you can view this Make-A-Wish video.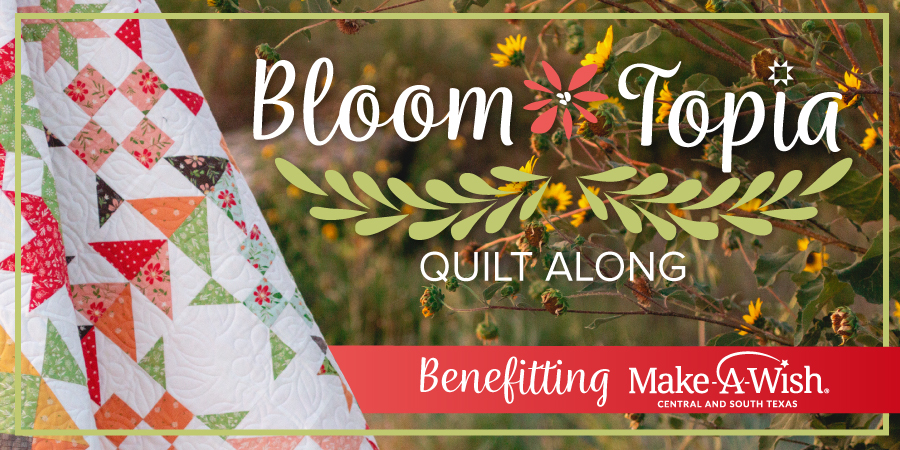 Be sure to follow the Bloom-Topia's Quilt Along's web page which includes all patterns and video tutorials, Facebook, and Instagram! Join the Kimberly Stitch Squad Facebook Group to join the group of quilters who are also quilting along. And be sure to hashtag your Bloom-Topia Quilt progress with #makeawish and #bloomtopia on Instagram so we can see and share your work!