Threadology QAL – Finishing
Month nine of Fat Quarter Shop's 2019 Threadology Quilt Along has been a crazy one at the Davison home, as it probably has been for so many of the rest of you, if your month of May has been anything like ours! Graduations, birthdays, holidays, family get togethers, floods…
Month 9 Finish – Assembly & Borders
I started the month strong and fast, sorting out blocks….
…which were then moved to the design wall and placed into "sections," to be sewn together.
Those sections were then moved on to big design boards and moved to the sewing machine, one section at a time, stitched, then returned to the design wall.
Finally it was time to make borders which were super simple and quick. I laid them out together and pinning the gray blocks with care, as my "measuring tape" fabric was directional. I didn't want one border to be right side up and the other border to have the numbers upside down.
Finally, everything was assembled and ready to photograph. Oh! Did I mention that for most the month of May it rained? And rained. We were blessed that we had no flooding in our home, but our small town is a designated flood plain. Lots of water, lots of flooding, and lots of extra driving to get anywhere because every road out of town, except for one, was closed.
I didn't think I would ever get my quilt top photographed. It's not easy to take a full size picture inside our house, and the outdoor fence was so wet all month, I really didn't want to put my quilt on it. Instead, during Memorial Day weekend with family, I got my cousin to hold the quilt over her sister's beautiful back porch railing and took some shots.
Side note: I need a back deck like this. 🙂
And once I was home and could look at the pics, I was horrified at all the wrinkles – yikes!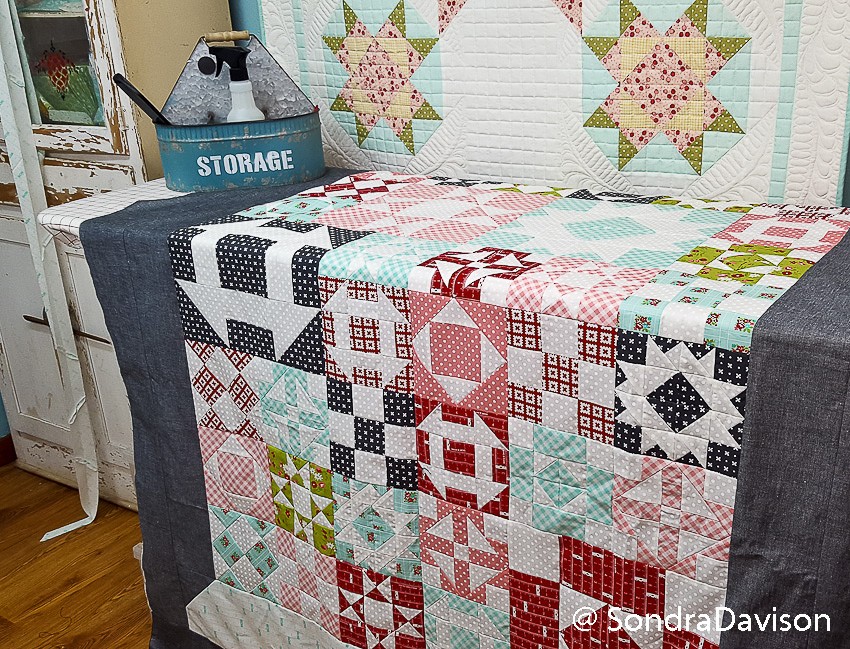 I gave it another good pressing at home (although it still looks really wrinkled), gave up, took another picture while it was still on the ironing board and said "good enough." At least the sun is shining, I've finished my quilt backing (pics for that soon), and I'm ready to put it on my longarm. Can't wait to share the full finish!

Just a reminder that this year's QAL benefits Make-A-Wish Central & South Texas. Fat Quarter Shop offers all of the patterns for free, but offers the opportunity to make a $5 donation per pattern download to support Make-A-Wish. All proceeds from the pattern downloads will be donated to Make-A-Wish Central & South Texas, with Moda Fabrics partnering along. To learn more about the cause you can view this Make-A-Wish video.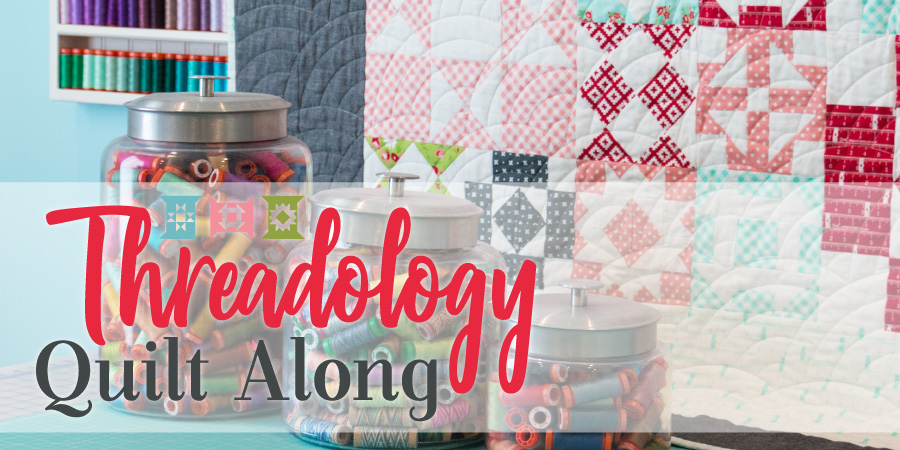 Be sure to follow the Threadology Quilt Along's web page which includes all patterns and video tutorials, Facebook, and Instagram! Join the Kimberly Stitch Squad Facebook Group to join thegroup of quilters who are also quilting along. And be sure to hashtag your Threadology Quilt progress with #makeawish and #threadologyquiltalong on Instagram so we can see and share your work!