Threadology QAL – Block 6
I love Mondays, especially when I get to talk about block six, Fair & Square, of Fat Quarter Shop's 2019 Threadology Quilt Along!
Block 6 Fair & Square
With the weather getting warm and outdoor chores calling, this block was a nice break from it all, stitching up quickly.
As always, I like to get everything lined up ahead of time on my design boards stacking all the small blocks together on one board, ready for chain piecing.
I use a second, bigger design board for my large block.
This makes it so much easier to carry everything over to the sewing machine.
Then, it's time to start chain piecing like crazy, lol!
Normally, I can turn to my left and use this handy ironing press mat that I have resting on the pulled out drawer of my sewing "desk," but lately Pepper has taken ownership of that spot.
I have made a concentrated effort on my pressing the past year or so. Luckily, Fat Quarter Shop's instructions are pretty good about telling you which way to press seams. When that convenience isn't available, I have started planning in advance, marking patterns before I press.
Good pressing really makes blocks (and quilts) go together so much easier. I've also started "popping" (spinning, swirling….so many terms available) where my seams meet and reducing bulk there. I know I wrote about that for Block 1 and Block 3, but repetition and practice are the key here!
And my final blocks! I can hardly wait to finish this quilt. Love it!

Just a reminder that this year's QAL benefits Make-A-Wish Central & South Texas. Fat Quarter Shop offers all of the patterns for free, but offers the opportunity to make a $5 donation per pattern download to support Make-A-Wish. All proceeds from the pattern downloads will be donated to Make-A-Wish Central & South Texas, with Moda Fabrics partnering along. To learn more about the cause you can view this Make-A-Wish video.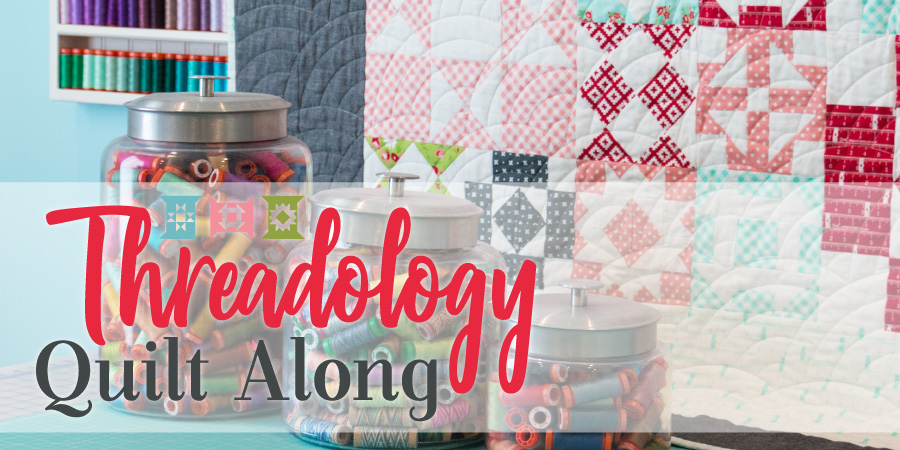 Be sure to follow the Threadology Quilt Along's web page which includes all patterns and video tutorials, Facebook, and Instagram! Join the Kimberly Stitch Squad Facebook Group to join thegroup of quilters who are also quilting along. And be sure to hashtag your Threadology Quilt progress with #makeawish and #threadologyquiltalong on Instagram so we can see and share your work!