2021 Charity Quilt Along – Serendipity Release 2
I feel like I'm "flying" right along with the Serendipity Quilt! Today is Release 2, featuring the second row of the quilt. You can download your pattern here. It's full of flying geese and making them was a breeze! Why?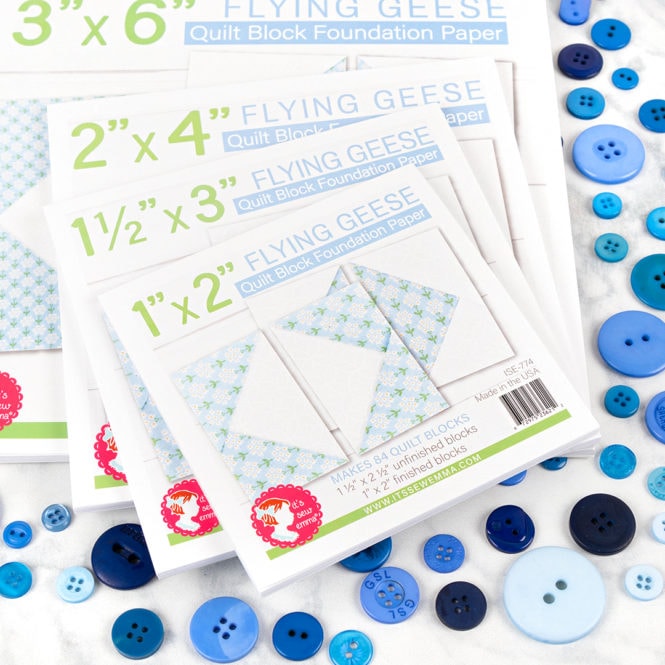 Introducing Fat Quarter Shop's Flying Geese Quilt Block Foundation Papers. This was my first time using these, and they're pretty awesome.
I love trying new quilting tools and techniques, especially ones that improve my sewing speed and accuracy. These foundation papers do just that.
On Monday, April 5 at 9am CST, tune in to the Fat Quarter Shop YouTube Channel to sew along with Kimberly on Release 2. In the meantime, this tutorial is PERFECT for how to use the papers, right down to telling you stitch length and needle size.
If you're a newcomer to the charity quilt along, I encourage you to read more about it on the FQS' Make-A-Wish page or YouTube channel.
---
There are several quilting along. I am the only one using the quilt kit, so be sure to check out everyone else's quilts to see the awesome fabric choices being used!
Corey Yoder, Coriander Quilts, (@corianderquilts)
Lissa Alexander, Moda Lissa, (@modalissa)
Melissa Corry, Happy Quilting (@happyquiltingmc)
Pat Sloan, Pat Sloan's Blog (@quilterpatsloan)
Geraldine Wilkins, Living Water Quilter, (@livingwaterquilter)
Doug Leko, Antler Quilt Design (@dougleko)
Jane Davidson, Quilt Jane, (@quiltjane)
Melanie Call, A Bit of Scrap Stuff, (@abitofscrapstuff)
Jen Belnap, The Smitten Chicken, (@thesmittenchicken)
Quilty Staffer Teresa
Quilty Staffer Nancy
Quilty Staffer Kate
Quilty Staffer Angel
Quilty Staffer Keri