Jolly Bar 3 Quilt Along – Block 1, Treasure Trove
Fat Quarter Shop has done it again, releasing another Jolly Bar Book! To kick off the release of Volume 3 in the series, FQS is hosting the Jolly Bar 3 Quilt Along, which starts TODAY! The book includes 20 quilt patterns designed around the 5″ x 10″ Jolly Bar precut, but the block patterns also can be used with your own stash of fabrics.
Today is the release of Block 1, Treasure Trove. A different block will be released each week, and each Monday after 9 AM CST, new cutting instructions will be featured at the Fat Quarter Shop. At the end of the 8-week schedule, we'll be putting them all together to create a table runner that measures 22.5″ x 80.5″.
Or…..some of us might change that a bit and make something else (hint, hint, wink)!
DOWNLOAD A PDF OF BLOCK 1, TREASURE TROVE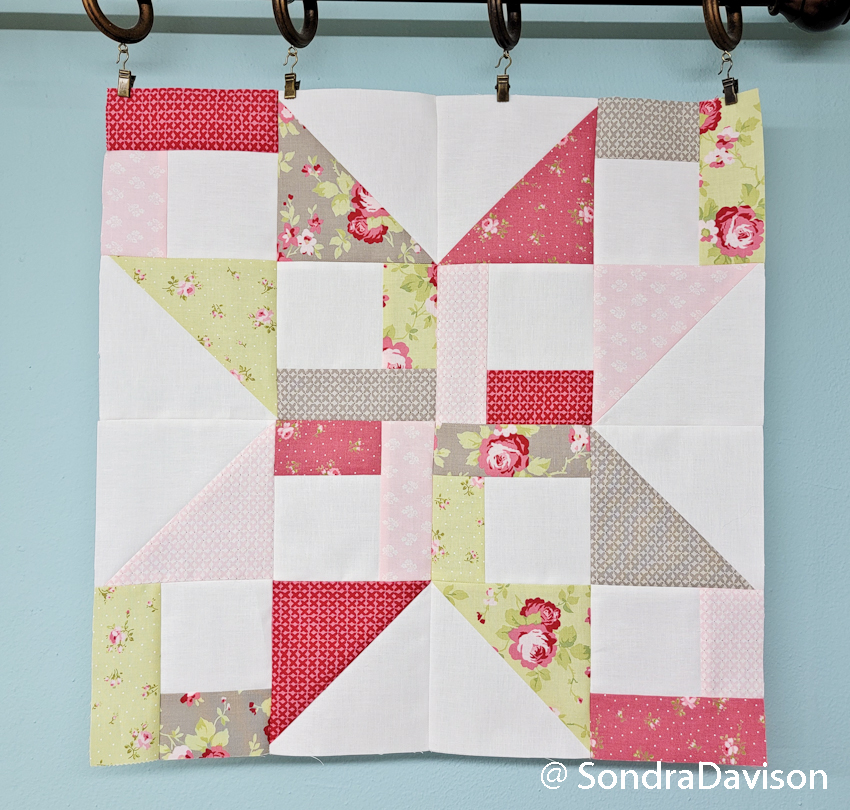 First, can I just say – this block is huge! Hanging on the wall doesn't really give you anything to go by, but the unfinished size is 18½" square, and it was a breeze to make.
The fabric I chose was Sophie by Brenda Riddle. I got a pre-release of the fabric, which is scheduled to arrive any day at the Fat Quarter Shop, so you still have time to order this.
The Creative Grids Perfect 10 Ruler comes in handy for cutting Jolly Bars. Personally, I've come to consider this ruler a staple in my stash of rulers, using it on nearly every project I make.
Quilt Along Supplies
To join the Jolly Bar 3 Quilt Along, you'll need a copy of Jolly Bar Book Volume 3. Check out the fabric requirements below for the rest. Every Monday, I'll be sharing my block with you here on my blog. Week 8, I'll post the big reveal of my finished project.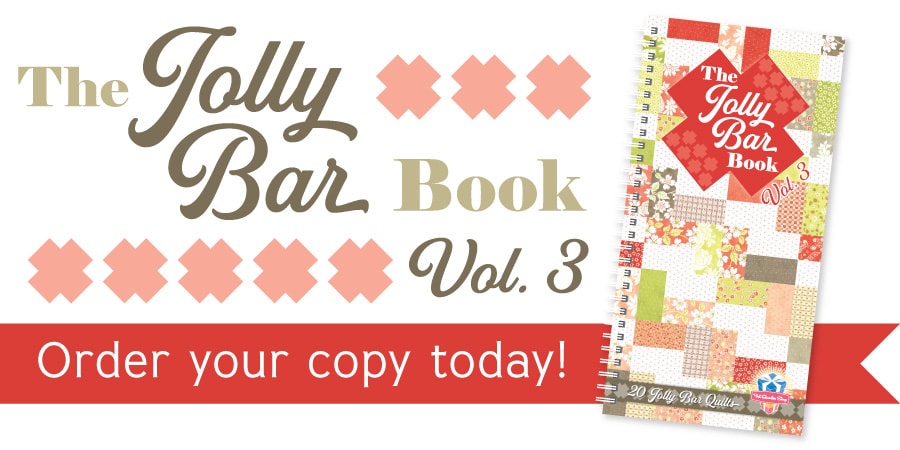 Fabric Requirements
1 ⅞ yards for Background, Sashing & Borders (I used SKU# 9900-97)
Fat Quarter Accent Fabric (Paradox Blocks) (I used fabric from my Sophie bundle)
⅝ yard for Binding (undecided)
2 ¼ yards for Pieced Backing (undecided)
DOWNLOAD A PDF OF FABRIC REQUIREMENTS
Who's Sewing Along – Featured Quilters
There's a fun group of quilters sewing along should you need any inspiration.
Gina Tell (@gina_tell_threadgraffiti), Thread Graffiti
Jen Belnap (@thesmittenchicken), The Smitten Chicken
Jeresther Thorpe-Page (@Sew_Sweet_SeeBee)
Lisa Johnson (@intheboondocks), In the Boon Docks
Mona Phelps (@mona.phelps), Bluegrass Stitches
Pat Sloan (@quilterpatsloan), Pat Sloan
Patty (@elmstreetquilts), Elm Street Quilts
Sondra Davison (@sondradavison), Out of the Blue Quilts
Keep up with the Jolly Bar 3 Quilt Along!
Please follow along on Facebook and Instagram for updates, and be sure to hashtag your progress with #JollyBar3QAL on Instagram and Facebook, so we can see and share your work!