Introducing Bertha, a longarm quilting machine
Hi there. I'm sorry I haven't posted in so very long. Since summer hit, the whole process of "finding balance" gets thrown out the window just a bit, and I struggle to keep it in focus. When I should be sewing, I want to be working outside. When I should be taking photographs outside, I want to be at the gym. When I should be at the gym, I want to be sitting in front of the tv eating bonbons (chuckle). Ok. Maybe nix on that last one. Not even sure I know what a bonbon is or if I'm spelling it correctly, and I rarely watch television.
One thing I have been doing is quilting! Machine quilting. I've spent the past year taking several online courses and reading books, teaching myself to quilt on my Bernina sewing machine, and I've made a lot of progress in that area. So much so, drumroll please… I'm progressing to "Bertha," a longarm quilting machine so named because she reminds of a cantankerous huge loading station we used in my aircraft job 25 years ago. That Bertha was fickle. She balked, stopped and started repeatedly, requiring numerous calls to electricians to get her running smoothly again. Last I heard, her personality is unchanged, and she still requires constant pampering from her caretakers. Unfortunately, I don't have any handy electricians or any other type of professionals nearby to help me figure out why my current Bertha has her own quirky characteristics.
So, with all that said, may I present…Bertha.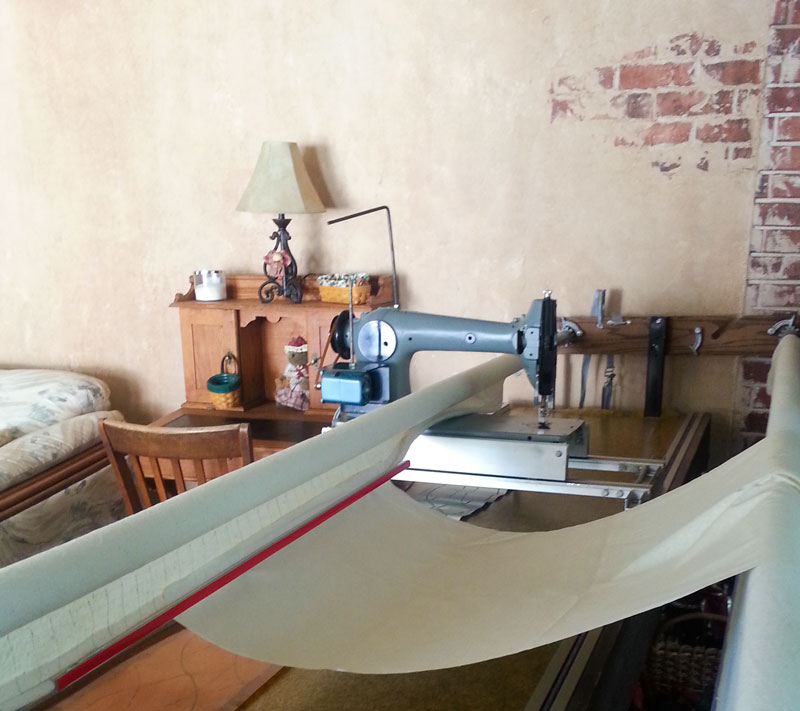 She is…um….vintage. While studying the history of longarms, it would appear that they made their way into popularity somewhere in the mid '80s. From the paperwork that came with Bertha, I think she might be one of the original dinosaurs. In fact, if she was a car, I know I could get one of those special license plates they let you put on a car after it's 30 years old. Bertha is definitely a senior citizen, but it doesn't mean she is past her prime!! I hope.
So, check back with me this week as I go through the history of how Bertha and I met (I just realized, this November is our 10th anniversary together), why she sat, untouched, this past decade, and where our future goes from here. Hopefully.