Instagram bandcdreamminiswap
Christmas in Kansas. That's what last Monday felt like when the mail arrived. Oh my gosh! Look at all of this!!!
If that wasn't already beyond exciting (which it was!!), everything just got better as I pulled be-ribboned, cellophaned packages out of the box! I swear I could hear the faint "ho, ho, ho" of Santa echoing in the house.
I have never participated in an instagram quilt swap before. I was expecting a mini quilt. Never did I dream that all of this would arrive. The #bandcdreamminiswap was organized by @cc.quilts, and each participant chose three patterns, one of which would be created from Moda fabric, designed by mother/daughter team Bonnie and Camille (that's the B and C in the Dream Mini Swap). Among my choices was Mini Stitch by Fig Tree & Co. My partner @sewnettiesew outdid herself. Just look! (and keep scrolling, because you'll want to see what's on the other side of that backing fabric underneath all the "extras")…
First, there was Vintage McCalls card, followed by a coordinating notebook. I have never seen these before and did a little swooning on the spot! Then came the most adorable little bag with a Little Stitch block on it, and how cute is the matching zipper pull? Inside the bag is where I found my notepad and those super sweet, green embroidery scissors….anyone besides me have a fetish over cute sewing tools??
Then the Mini Stitch mug rug. By now, I know a few of you are wishing you'd known about this swap…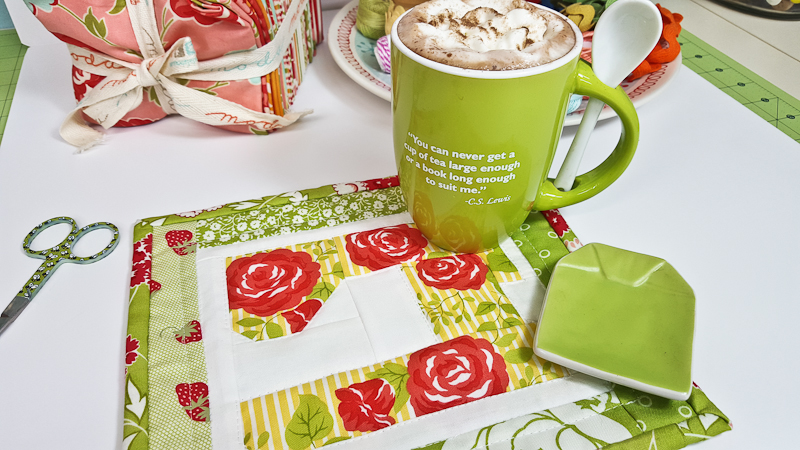 I was having a lovely mocha and enjoying my mug rug, while working in the sewing room last night. Which now leads to why it took me an entire week before I wrote to show off all this awesomeness from @sewnettiesew…..(drumroll please)……
I had to rearrange an entire wall of my sewing room and didn't have time until the weekend! I want to enjoy my Mini Stitch quilt every day. Love it!  In the lower left corner is the quilt label that was included. It was so sweet, I pinned it to the front of the quilt rather than iron and hide it on the back. So special!
It's hard to stop and not add dozens more pictures (yes, I took dozens)! However, if I don't another week will pass, so I'll end by saying if you're not on Instagram, there is so much inspiration out there, not to mention all these other fun activities, so check it out. Start with a search of some of the hashtags from this swap: #bandcdreamminiswap or #dreamminiswapteamkristen, or check out some of those participating: our team captain @heartfullyhandmade, @sewnettiesew, @sondradavison, @cc.quilts. Happy instagramming!