Snapshots Quilt-Along Mini Quilt Finishing Set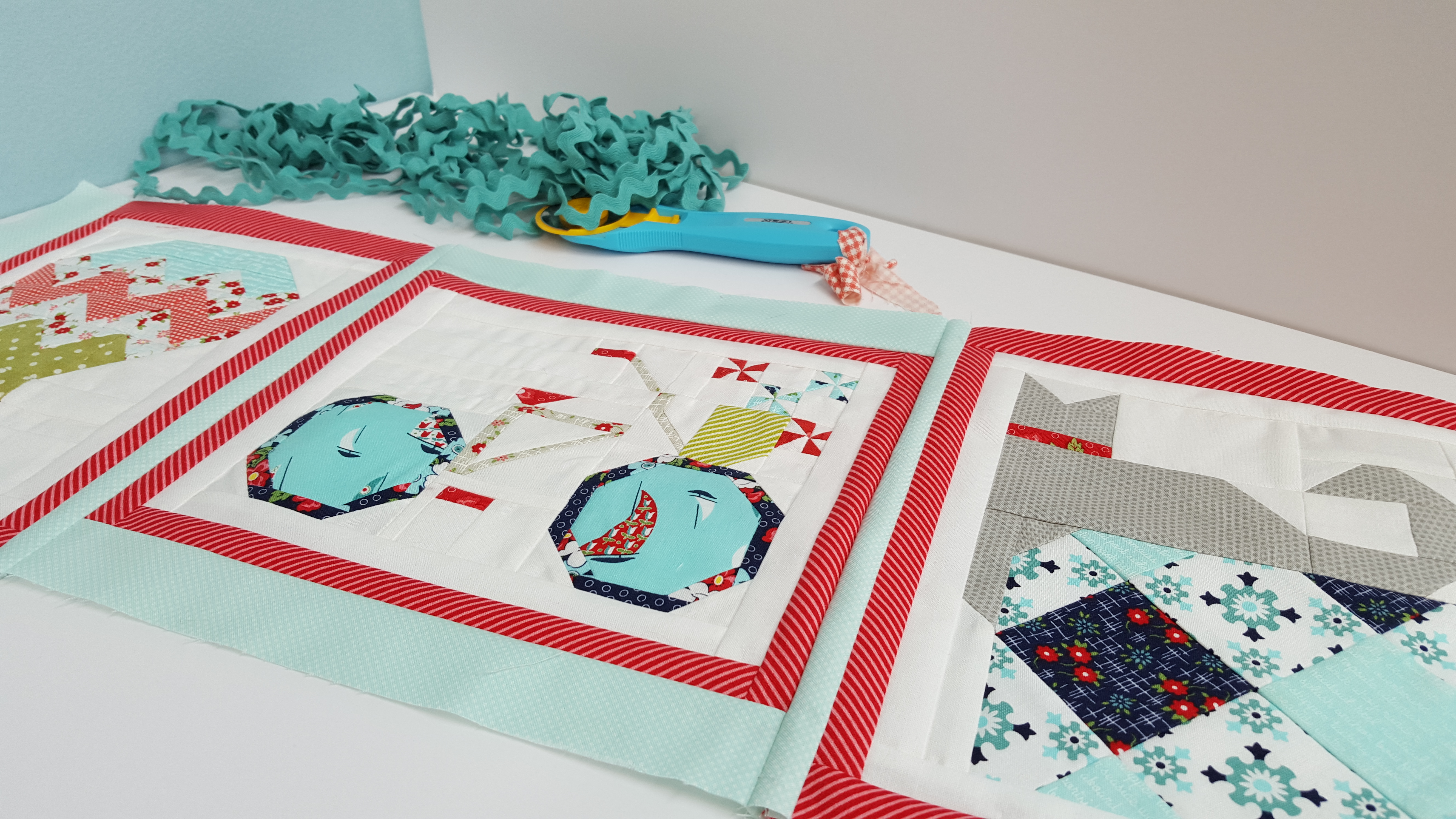 Did you think I was never going to post the finishing instructions for the Snapshots Quilt-Along mini quilt? (insert sheepish grimace HERE) I'll be honest: I wrote the instructions ages ago, when the full-size version was released. I even went to the effort to write and photograph cutting instructions….
Then things changed. Despite all the care I had put into making these wee, little blocks, I discovered a few that weren't measuring the correct size on all four sides (meaning they weren't square), and the OCD part of my brain kicked in. I tried adding a couple of my already cut, inner white borders, and I couldn't take it. I knew that no amount of fudging was going to help this situation, so all the instructions got rewritten, old photographs were trashed, new content was created and finally I pulled out the seam ripper and went back to work. Normally, I wouldn't want to share my less than perfect results, but since I'm sure this happened to at least one person besides me, here we go.
I wrote our Mini Quilt instruction card with two sets of instructions. The left side has the measurements that exactly reflect the half-size equivalents of those from the Fat Quarter Shop. The right side of the card has the measurements I used, what I like to call the fudge factor. If your blocks are perfect, you don't need the right side of the card and can print and start sewing. If your blocks need a bit of work still, read on.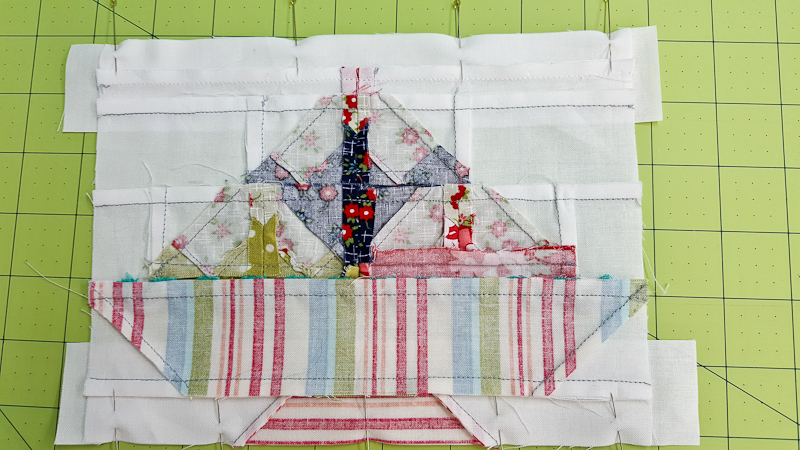 The only deviation I made was for our A pieces. I oversized those to 1½" x 9″ pieces and sewed those to the long sides of each of my blocks (above pic), leaving some extra extending from each end. Don't press yet. Keep reading.
Next (pic above), I aligned my ruler along one side of the block, focusing on keeping a quarter inch from any "points" (see the 8½-inch mark on the ruler) and attempting to line up with a seam (see the 6½-inch mark on the ruler). Trim the excess white border extending out from that side of the block, then do the same on the other side of the block, being sure that the final size from one side of the white border to the opposite side measures 8½ inches (on this block we would be referring to the width).
Now, press your seams. Your block is oversized from top to bottom (see below). Trim equal amounts from the top and the bottom A Pieces, so the finished size (top to bottom on this block) is 7½ inches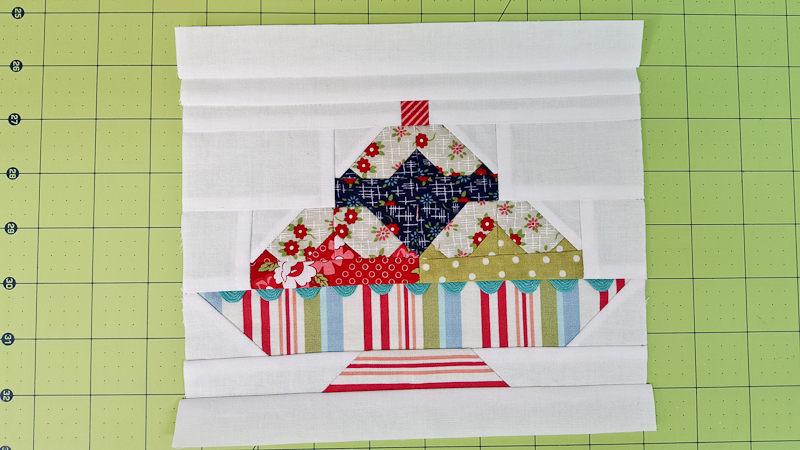 Your sides may still look a bit crooked or wobbly, but we're about to fix them. Attach your B Pieces on the block, pinning in place and being sure to align them with your newly attached, A pieces. As shown below, I am lining my B Pieces with my A Pieces at each corner. I need to keep the B pieces straight, rather than try to fit them flush against the side of my block. If I did so, my block would become crooked again. You can see, adjacent my second pin from the bottom of the pic below, there is gap between the edge of my block and the edge of my B Piece. This is on purpose, but I still have plenty of space for my ¼" seam allowance. Pin well, sew and press.
Your block should now measure 7½" x 9½" exactly.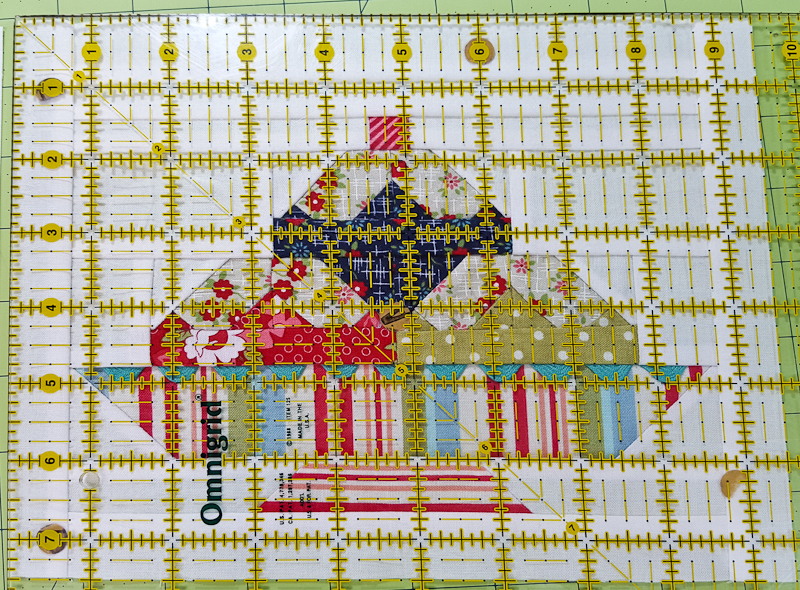 Because your blocks are basically floating within the white background, anything that was a little crooked before is pretty well hidden at this point. If they're not perfect, don't tell anyone!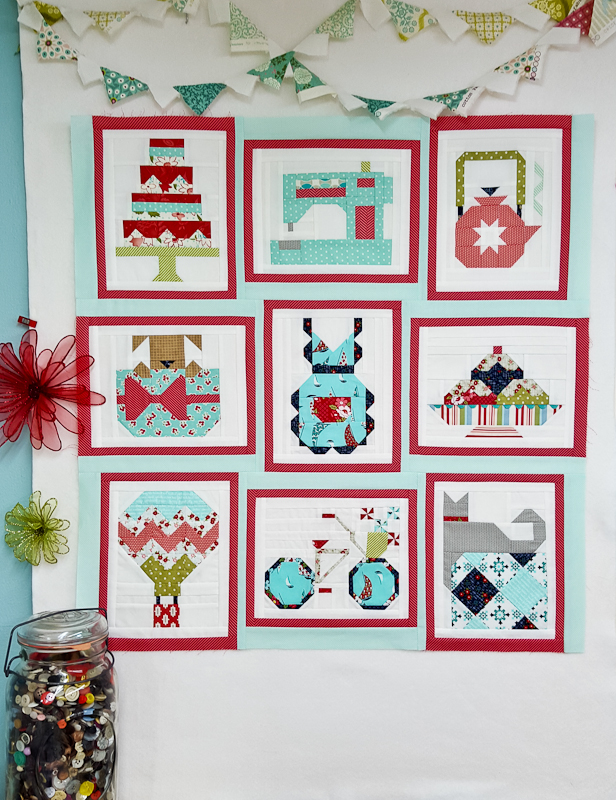 Hopefully, all your blocks were perfect to begin with and you won't need these extra instructions. I didn't encounter this issue with the full-size blocks, but I think due to the excessive amount of seams and the blocks being so small, that is why it happened with the smaller blocks. If your full-size blocks are having similar problems, you could follow this example and increase your A Pieces on them, as well.
Happy quilting!